Famously Dead A-Z:

Cause of Death:
View information about Frank Jobe's death here on famously-dead.com. You can view information about Frank Jobe's death and other famous deaths. You can view by name or by cause of death. We also have included the most popular famous deaths.
Frank Jobe's Death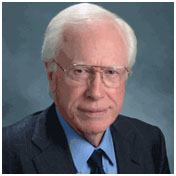 Frank Jobe
Sports Medicine
July 16, 1925
March 6, 2014
Undisclosed (History of Heart Disease)
The life and death of Dr. Frank Jobe:
He was honored at the Baseball Hall of Fame, although he never made a single pitch or got even one hit. His contribution to the game was a pioneering surgical procedure that saved the careers of some of baseball's top pitchers.
Frank Jobe started life in Greensboro, North Carolina and enlisted in the U.S. Army in 1943, in the middle of World War II, serving as a medical staff sergeant. He was briefly captured at the Battle of the Bulge during the Siege of Bastogne and after escaping, earned the Bronze Star Medal, the Combat Medical Badge and a one-star Glider Badge.
With help from the G.I. Bill, Frank went to college after the wry for his formal medical training and became an MD in 1956. After three years in general practice, Jobe specialized in orthopedic surgery at the Los Angeles County Hospital.
Opportunity knocked in 1964, when he began to consult with the recently transplanted Los Angeles Dodgers. Dr. Jobe teamed with Dr. Robert Kerlan and they developed the field of sports medicine. Frank officially joined the Dodger staff in 1968.
In September 1974, he made sports medicine history when he performed elbow surgery on injured Dodgers' pitcher Tommy John.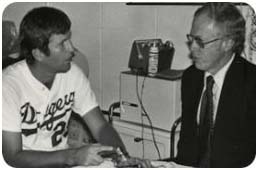 Basically, it involved a surgical procedure in which an elbow ligament was replaced with a tendon from another part of the body. (In John's case a tendon from Tommy's forearm.)
It came to be known as Tommy John surgery…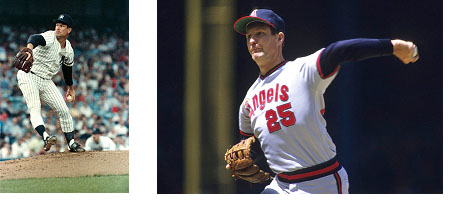 …and the pitcher went on to three 20 victory seasons, three All Star Game appearances and twice finishing second for the Cy Young Award, awarded to the year's best pitcher.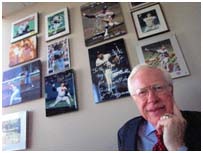 Other star pitchers who successfully underwent the career-saving procedure include: A. J Burnett, Chris Carpenter, Matt Harvey, Tim Hudson, Francisco Liriano, Joe Nathan, John Smoltz, Stephen Strasburg, Billy Wagner, David Wells and Brian Wilson.
The surgery originally took four hours – now doctors do it in an hour. Full rehabilitation for a pitcher takes a year – half that amount of time for position players.
He also performed reconstructive shoulder surgery on Dodger star Orel Hershiser…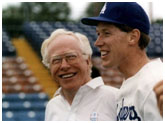 …allowing him to continue his career and opening a doorway for others.
Frank married Beverly Anderson. They met when she was referred to him as a general practitioner. He had a colleague treat her so they could date and they wound up with four sons, Christopher, Meredith, Cameron and Blair, and eight grandchilden.
The medical team of Drs. Jobe and Kerlan not only treated the baseball Dodgers and Angels in Los Angeles but expanded their sports medicine practice to include players for the basketball Lakers, football Rams and hockey Kings and Ducks, along with other pro and amateur athletes nationwide. Dr. Jobe also worked as an orthopedic consultant on golf's PGA tour for a quarter century.
In July 2013, the Baseball Hall of Fame honored Frank Jobe for his pioneering work.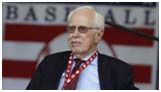 Some have petitioned for him to be permanently recognized in the Cooperstown, New York Hall.
And the Dodgers honored him for his half century of work for them…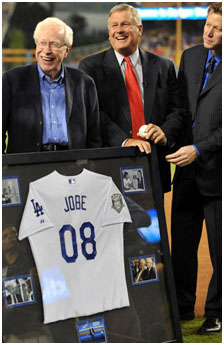 …with two of his most famous patients, Tommy John and Orel Hershiser, standing by.
Frank Jobe had a history of heart disease, undergoing coronary artery bypass surgery on four arteries in 2002. In 2010, a defibrillator was implanted. He died at the age of 88 in Santa Monica, shortly after being hospitalized with an undisclosed illness.