Famously Dead A-Z:

Cause of Death:
View information about Ernie Davis's death here on famously-dead.com. You can view information about Ernie Davis's death and other famous deaths. You can view by name or by cause of death. We also have included the most popular famous deaths.
Ernie Davis's Death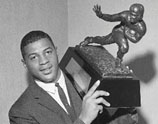 Ernie Davis
Football
December 14, 1939
May 18, 1963
Leukemia
The life and death of Ernie Davis:
He appeared destined for fame and fortune as a professional football running back. But he was dead at the age of 23, a victim of the blood cancer known as leukemia.
Ernest Davis was born in New Salem, Pennsylvania but his father died in an accident soon after his birth and his mother Avis Marie couldn't raise him alone. So young Ernie was raised by his maternal grandparents, Willie and Elizabeth Davis in Uniontown, Pennsylvania.
By the time he was 12, he moved to Elmira, New York to live with his mom and stepfather. Ernie was a grade school star in baseball, basketball and football. From there he went to the Elmira Free Academy, winning All America honors.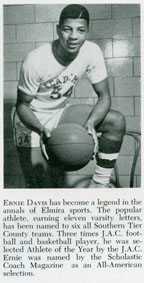 Ernie then attended Syracuse University, influenced by his childhood hero Jimmy Brown, who was a star for Syracuse football.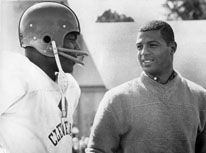 In fact, Ernie himself starred at Syracuse, wearing Brown's old number 44 and went on to national fame, including All-American honors.
He won the Heisman Trophy as college football's best player in 1961 and got to meet President John F. Kennedy.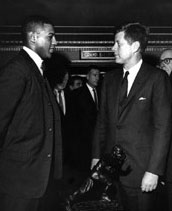 Davis was poised for great things when he was the number one pick in the 1962 NFL draft by the Washington Redskins. He was promptly traded to the Cleveland Browns, and some blamed racism on the part of Washington owner George Preston Marshall.
But in Cleveland, fans were elated at the prospects of a backfield with both Jimmy Brown and Ernie Davis.

Ernie was issued number 45 but never played in a professional game. Davis was diagnosed with Leukemia during preparations for a college football All Star Game.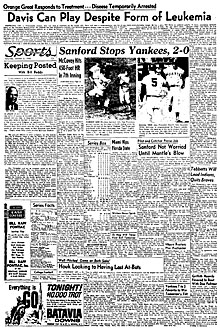 By the summer of 1962, he was found to have acute monocytic leukemia and began receiving treatment, even though the disease was incurable.
Tragically, Ernie died in Cleveland's Lakeside hospital at age 23.
He's buried in Elmira's Woodlawn Cemetery, which is where Mark Twain is also buried.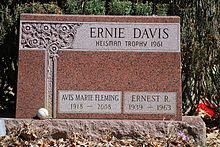 A middle School is named after Davis in Elmira…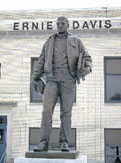 …and there's a statue honoring him at his alma mater, Syracuse.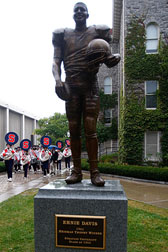 The movie "The Express: was released in 2008, to tell Ernie's life story