Famously Dead A-Z:

Cause of Death:
View information about Ernie Banks's death here on famously-dead.com. You can view information about Ernie Banks's death and other famous deaths. You can view by name or by cause of death. We also have included the most popular famous deaths.
Ernie Banks's Death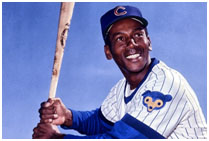 Ernie Banks
Baseball
January 31, 1931
January 23, 2015
Heart Attack
The life and death of Ernie Banks:
"Let's Play Two!" That's the famous phrase associated with this man. And his overall disposition and attitude were widely said to be as sunny as the skies before one of the day games at his home park Wrigley Field.
Not only is Ernie Banks a member of baseball's Hall of Fame, but he was a 11 time National League All-Star (appearing in 14 games), a back-to-back winner of the National League Most Valuable Player Award, while starring for one of worst performing teams in baseball. For all of that, he'll always be remembered as "Mr. Cub".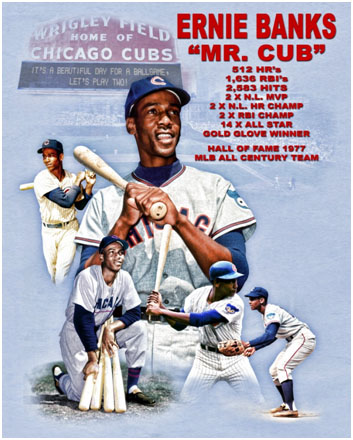 Ernest Banks was born and raised in Dallas, Texas and had eleven brothers and sisters. Ten of them were younger than he was. His father Eddie was a semi-pro baseball player and supported the family with construction jobs and as a warehouseman.
As a child, Ernie preferred basketball, swimming and football over baseball, so his dad would bribe him with loose change to play catch. It certainly paid off!
A high school graduate in 1950, he'd lettered in football, basketball and track – there was no baseball team. The Kansas City Monarchs of the Negro Leagues took notice of Ernie. Some say he was scouted by fellow baseball Hall of Famer, Cool Papa Bell.
Ernie was drafted into the Army was played basketball part time with the Harlem Globetrotters while stationed at Fort Bliss, Texas.
Discharged from the Army in 1953, he started playing for Monarchs, batting .347. And the Chicago Cubs sensed big league material.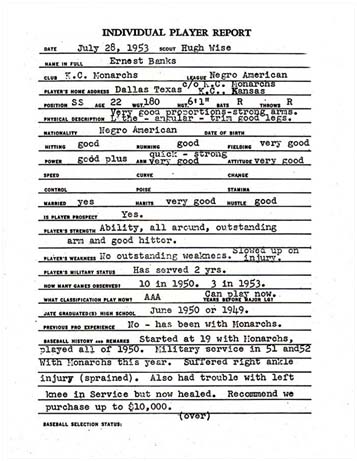 The Cubs paid the full ten grand and Ernie debuted with the Cubs at Wrigley Field as a 22 year old shortstop in September 1953. He was the first black player in team history…and he spent his entire career as a Cub, first as a shortstop and in 1961 (until his career ended), a first baseman.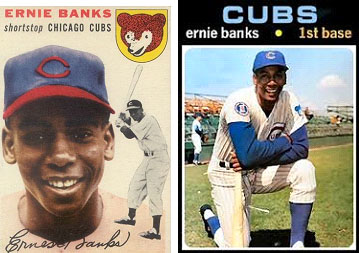 Ernie was one of baseball's top sluggers in the 1950's and early 1960's.
Ernie did encounter some static when Leo Durocher was named Cubs manager in 1966. The famously opinionated and testy Leo thought Ernie was washed up but that he had to keep him in the lineup, because that's what Cubs fans wanted. Ernie didn't return the fire, though, saying he wished Durocher had always been his manager, because he gave him a helpful push.
In 1969, it looked like the Cubs would make it to the World Series for the first time since 1945. But they were beaten by an even bigger Cinderella team, the eight year old New York Mets.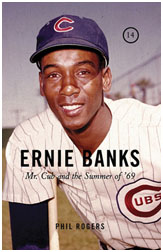 Ernie never appeared in a World Series.
However, he did make it to the Hall of Fame in his first try, in 1977.
Ernie married his first wife, Mollye Ector in 1953 but he filed for divorce two year later and separated forever in 1959 after a brief reconciliation. He eloped with Eloyce Johnson a short time later and they had twin sons and a daughter four years later.
Ernie and Eloyce divorced in 1981 and she sold some of his memorabilia, including his 500th home run ball. He married his third wife Marjorie in 1983 and married a fourth time in 1997 to Liz Ellzey. They adopted an infant daughter in 2008.
After his retirement from baseball, Ernie stayed in Chicago, running the first black-owned Ford Motor dealership in the United States.
Ernie even took a shot at politics, running for Chicago Alderman in 1961, but when he lost he said people only knew me as a baseball player.
Other politicians remembered his baseball feats and in 2014, President Barack Obama awarded him the Presidential Medal of Freedom.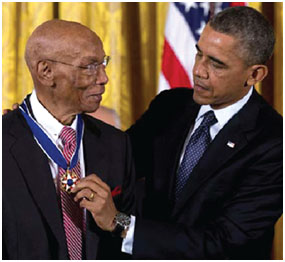 He also stayed in the public eye, arriving at 2014 Hall of Fame ceremony.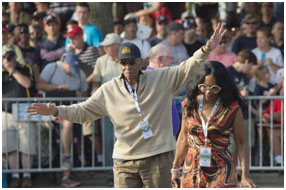 In his later years, Ernie lived in the Los Angeles area. Ernie Banks died about a week shy of his 84th birthday. The cause was undisclosed in the Cubs' statement, but the following weekend his family and attorney announced that he suffered a fatal heart attack.
His retired number 14 flies at Wrigley Field, along with another Cubs' favorite, Ron Santo.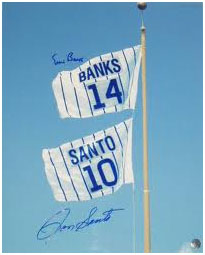 And there's a statue of him outside the park.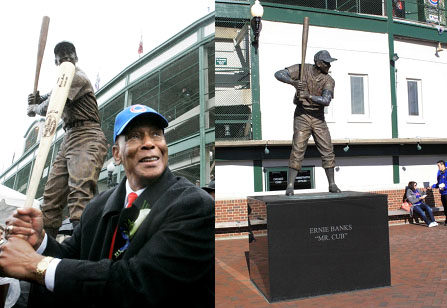 And to top it all off, Ernie Banks was named a member of baseball's All-Century Team in 1999.
But in an era of multi-million dollar benchwarmers, one of baseball's greatest stars died nearly a pauper. The most he ever made in 19 seasons was $75,000 a year and Ernie Banks' assets were worth a mere $16,000 when he died.
That's the claim of the woman who cared for Ernie in his final years. A Cook County judge gave that caregiver, Regina Rose, thirty days to provide a full accounting of Mr. Cub's estate when he died.
Rice and Banks' estranged wife, Elizabeth, had been fighting over what he would have wanted done with his remains and what should be done with his estate.
The widow prevailed with the remains, burying Ernie in Graceland Cemetery a few blocks from Wrigley Field a week after his funeral. Elizabeth Banks claimed Rice wanted to cremate him.
But the widow's attorney did not accuse Rice of wrong doing, saying there's no accusation or fraud or embezzlement – his client would just like to know what happened.
At the end of March 2015, the probate judge heard testimony from two witnesses who were paralegals for the law firm that executed Banks' will. They said Ernie stated verbally that he was not leaving money to his family - "not for a lack of love and affection for them and for reasons best known by them." The witnesses also said that his caretaker, Rice, was at the will signing.
Banks' family maintains he was coerced into signing the will and the probate judge's order confirming the will and the bequest to the caretaker (Rice) continues to be challenged.