Famously Dead A-Z:

Cause of Death:
View information about Don Zimmer's death here on famously-dead.com. You can view information about Don Zimmer's death and other famous deaths. You can view by name or by cause of death. We also have included the most popular famous deaths.
Don Zimmer's Death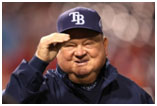 Don Zimmer
Baseball
January 17, 1931
June 4, 2014
Heart and Kidney Failure
The life and death of Don Zimmer:
His nickname was "Popeye" and he spent 66 of his 83 years in professional baseball, although he nearly died of the head injury he received on the field in the 1950's.
It happened in a minor league game in St. Paul in 1953. Zimmer was hit in the temple by a pitch and did not gain full consciousness for almost two weeks. Holes were drilled in his skull to relieve the swelling. Narrowly escaping death at age 22, Zimmer was told his career was over.
However he fought back and made it to the majors in 1954 as a utility infielder with the legendary Brooklyn Dodgers.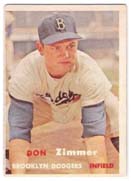 In 1956, Zimmer was beaned again in a game against the Cincinnati Reds and his cheekbone was broken. It's widely believed he had a metal plate inserted in his skull because of those beaning's, but it's not true although the holes that were drilled into his skull in 1953 were later filled with four Titanium metal buttons, shaped like corkscrews.
He won two World Series rings with the Dodgers in 1955 in Brooklyn and then in Los Angeles in 1959. However, the gritty shortstop who was the hoped-for successor to Dodger legend Pee Wee Reese never quite lived up to his promise, and was eventually traded to…

…the Chicago Cubs, whom he represented on the 1961 National League All Star team and was drafted by the original, 1962 New York Mets.

Zimmer closed out his playing career with the Cincinnati Reds…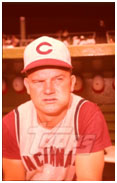 …and the Washington Senators in 1965.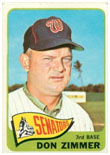 Besides Popeye, other nicknames included "Jabba the Hut" "Gerbil" and "Zim", playing off his last name.
He was highly respected for his baseball knowledge and Don Zimmer also had a very successful run as a manager and coach, for teams including San Diego…

…the Boston Red Sox…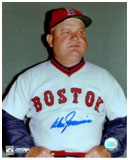 …the Texas Rangers…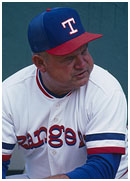 …and the Cubs.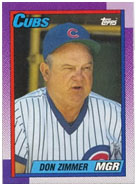 He was there for two famous incidents at Fenway Park in the intense rivalry between the Boston Red Sox and the New York Yankees.
He was Red Sox manager when they lost the one game playoff against the Yankees in 1978 on the Bucky Dent homer.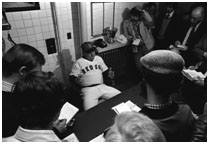 Then in 2003, there was an incident in a playoff game at Fenway when as the New York Yankees bench coach under Joe Torre…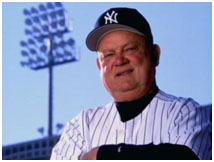 …Zimmer was tossed like a bowling ball by Red Sox pitcher Pedro Martinez.
Zim was present for three perfect games at Yankee Stadium – Don Larsen's in 1956 as a Dodger player and David Wells and David Cone's in the late 1990 as a Yankee coach
After his years with the Yanks, Zimmer joined the Tampa Bay Rays as a senior advisor for spring training and home games.

In all, Zimmer had six World Series rings.
Fittingly, Don and his bride Carol (nicknamed Soot)…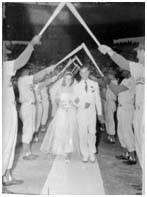 …were married on the field of a minor league ball park in August 1951. They were together until he died at age 83 from heart and Kidney problems. Zimmer is also survived by his son Thomas, a scout with the San Francisco Giants; daughter Donna, and four grandchildren.