Famously Dead A-Z:

Cause of Death:
How did Dennis Byrd die? Here on famously-dead.com, you can view information about Dennis Byrd's death and other famous deaths. You can view by name or by cause of death. We also have included the most popular famous deaths.
Dennis Byrd's Death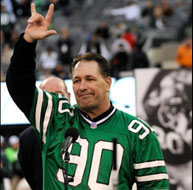 Dennis Byrd
Football
October 5, 1966
October 15, 2016
Car crash
The life and death of Dennis Byrd:
He suffered a catastrophic, career ending injury as a professional football player and when it happened there were doubts he'd ever walk again. But through hard work and lots of physical therapy, he not only managed to walk again but went on to help others with his inspirational story. His NFL team honored him by not only retiring his number, but naming an award after him. But despite all of his setbacks and comebacks, he still died at the age of fifty, leaving behind a wife and four children, when a teenager swerved into the path of his vehicle on a highway in his home state of Oklahoma.
Dennis DeWayne Byrd was born in Oklahoma City and grew up in the town of Mustang, Oklahoma where he attended high school. From there, he went on to play his college ball at the University of Tulsa, where he won All America mention after his senior year.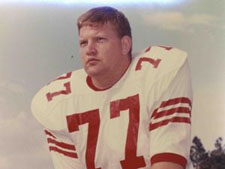 Dennis was a second round draft pick by the New York Jets in the 1989 NFL draft. He started as a defensive end in his rookie year, but when the Jets switched to a 3-4 defense, he moved to defensive tackle.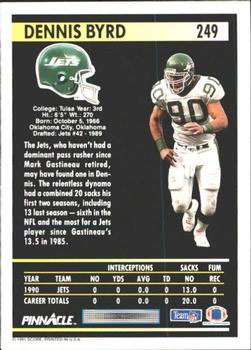 In 1992, tragedy struck in the New Jersey Meadowlands during a Jets' home game against the Kansas City Chiefs. While zeroing in on a sack of quarterback Dave Krieg, Krieg avoided the tackle and Byrd, who had lowered his head, crashed into his own teammate, Scott Mesereau.
He broke his c-5 vertebra and not only was his career ended, but doctors feared he would never walk again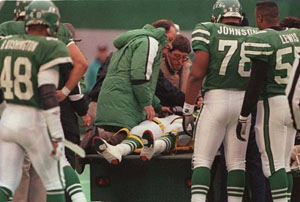 (Mesereau also suffered injuries on that play that shortened his NFL career.)
But Dennis proved them wrong after extensive physical therapy and triumphantly returned to the Meadowlands as an honorary captain for the coin toss at the Jets' home opener in September, 1993. At half time, he was awarded with a trophy for being the Most Inspirational Player, later renamed the Dennis Byrd Award.
Byrd's number 90 was never reissued and was formally retired in October, 2012.
In between, Dennis spent years travelling the country, sharing the inspirational story of his comeback. He co-authored "Rise and Walk: The Trial and Triumph of Dennis Byrd." It was also the subject of "Rise and Walk: The Dennis Byrd Story", a TV movie.
But irreversible tragedy struck Dennis ten days after his fiftieth birthday. He was killed in a two car crash on Oklahoma State highway 88 when his Hummer was hit by a 17-year-old driver who veered into his lane.
His 12-year-old son Zach, travelling with him, was injured. Byrd was survived by his wife Angela and their four children.