Famously Dead A-Z:

Cause of Death:
View information about Brian Piccolo's death here on famously-dead.com. You can view information about Brian Piccolo's death and other famous deaths. You can view by name or by cause of death. We also have included the most popular famous deaths.
Brian Piccolo's Death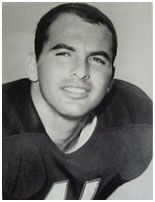 Brian Piccolo
Football
October 31, 1943
June 16, 1970
Cancer
The life and death of Brian Piccolo:
He was a professional athlete who wasn't known as much for his accomplishments on the field but for the relationships he fostered as a member of the Chicago Bears. His legendary friendship with the Bear's star running back, Gail Sayers…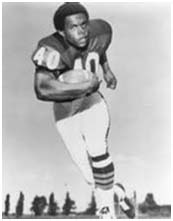 …spawned a movie and the song for which he's remembered.
Brian's Song.
Louis Brian Piccolo was born in Pittsfield, Massachusetts - the youngest of three boys born to Joseph and Irene Piccolo. When Brian turned three, his family moved to Fort Lauderdale, Florida because of concerns about one of his brother's health.
The Piccolo boys were all athletes and Brian was a star running back on his high school football team, Central Catholic High, now known as St. Thomas Aquinas High School.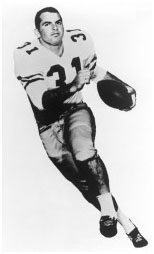 Brian went on to play college football at Wake Forest and led the nation in rushing and scoring during his senior year in 1964.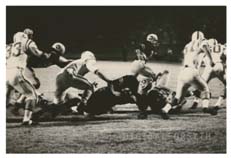 He was also named Atlantic Coast Conference Player of the Year for 1964, but he still wasn't chosen in the 1965 NFL draft. So, he tried out for the Chicago Bears as a free agent.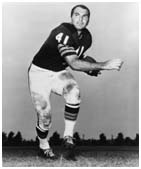 He made the team on the taxi squad, now known as the practice squad. It meant he could practice with the team but not suit up for games.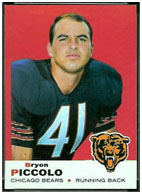 He was a roster player in 1966, but only played on special teams. He got some more playing time in 1967, backing up the super star running back Gail Sayers, after Sayers suffered a knee injury. And by 1969, Piccolo was the starting fullback, with Sayers returning as the Bears' tailback.
In those days, players were still segregated by race for hotel room assignments while travelling. However, the policy was changed and players were reassigned roommates by position. In 1969, running back was the Bear's only position with one black and one white player – Gale and Brian.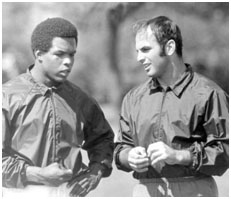 And the friendship between these two men deepened.
The 1969 Chicago Bears had a miserable record, 1-13. Piccolo was the starting fullback and surprised his teammates by voluntarily removing himself from a game against Atlanta. Always a gung-ho player, it was something he'd never done before. It was because he found breathing to be very difficult.
He was diagnosed with embryonal cell carcinoma, an aggressive form of testicular cancer that had traveled to his chest. Piccolo had initial surgery to remove the tumor but by April, 1970 was in surgery again at New York's Sloan Kettering Hospital for removal of his left lung and pectoral muscle.
The month before his death, while accepting the "George Halas Award" for Most Courageous Player, Sayers told the audience they elected the wrong person, and paid tribute to his friend.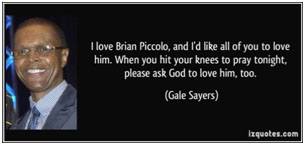 Brian was re-admitted to the hospital in early June as the cancer spread to other organs, including his liver. Brian died at the age of 26 on June 16, 1970. He was survived by his wife Joy Murrath Piccolo …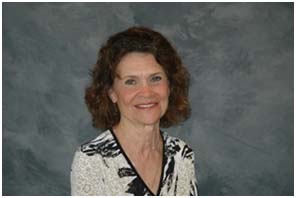 …whom he married in late 1964. They had three daughters, Lori, Traci & Kristi.
Sayers, Dick Butkus and six other Bears' teammate served as pallbearers at Piccolo's Chicago funeral and Brian was buried at St. Mary Catholic Cemetery in Evergreen Park, Illinois...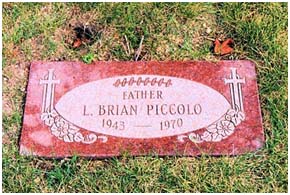 It was a brief, four year pro football career, but in many ways more people remember Brian Piccolo than a lot of members of the Pro football Hall of Fame. That's because in 1971 he was the subject of a TV movie, "Brian's Song"…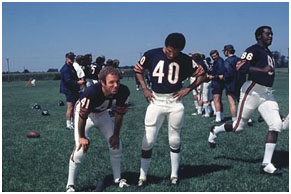 …starring James Caan as Brian and Billy Dee Williams as Sayers.
It was such a hit on ABC-TV, that it was later shown in theatres.
And Brian's story was retold in 2001's remake, starring Sean Maher and Meki Phifer.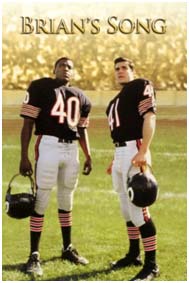 Brian's also memorialized with a public school in Chicago.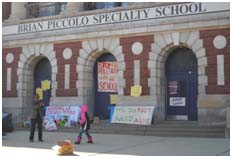 He also has a school named after him in Far Rockaway, New York and a park named after him in Fort Lauderdale, along with the Brian Piccolo Cancer Fund Drive and the Atlantic Coast Conference's "Brian Piccolo Award" for its Most Courageous Player.