Famously Dead A-Z:

Cause of Death:
View information about Benny Paret's death here on famously-dead.com. You can view information about Benny Paret's death and other famous deaths. You can view by name or by cause of death. We also have included the most popular famous deaths.
Benny Paret's Death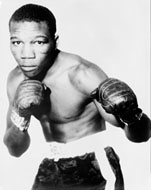 Benny Paret
Boxer
March 14, 1937
April 3, 1962
Brain Hemorrhage
The life and death of Benny Paret:
The "Kid". That was his nickname and he won the world welterweight championship twice in the early 1960's. But Benny "Kid" Paret is better remembered for something else. He was beaten to death in the ring in a nationally televised fight.
Born in Santa Clara, Cuba, Paret won the welterweight title for the first time in 1960 against Luis Federico Thompson. He lost the crown in his first title defense…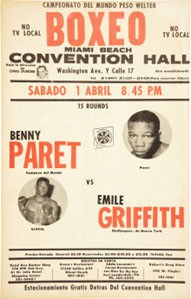 …defeated by Emile Griffith.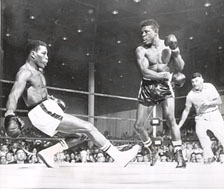 …and then regained the title in a 1961 split decision over Griffith.
Paret-Griffith III was booked for New York's Madison Square Garden in March, 1962 and was televised live by ABC. In Round Six, it appeared that Paret was going to win by a knockout, but Griffith was saved by the bell. Then in Round Twelve, Griffith unleashed a savage barrage of 29 straight punches, with 18 thrown in only six seconds.

Paret collapsed in the corner and then through the ropes and Griffith kept hitting him.
Finally, referee Ruby Goldstein called the fight.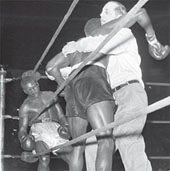 And Benny was carried away, never to regain consciousness.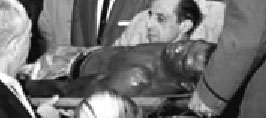 Paret slipped into a coma shortly thereafter and died ten days later of massive brain hemorrhaging at a New York City Hospital.
In the aftermath of his death, New York State boxing officials were criticized for allowing Paret to fight so soon suffering a knockout at the hands of middleweight champ Gene Fullmer.
Then it was pointed out that Paret insulted Griffith at the weigh-in for their fight.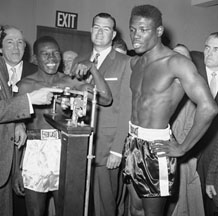 Paret touched his rival's buttocks and used Spanish slang (maricón) to say that Griffith was gay. Griffith wanted to punch him out on the spot but was stopped.
Finally the ref was criticized for not stopping the bout sooner, and Goldstein's career ended, unable to find work after that. Paret's manager was criticized for not stopping the fight by throwing in the towel from his corner. To top it off, ABC stopped its boxing broadcasts and so did the other networks. Boxing didn't return to free TV until 1970.
Paret had a son, Benny Junior.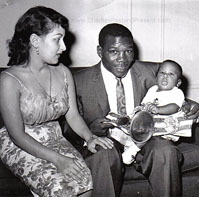 A 2005 film called "Ring of Fire": The Emile Griffith Story"…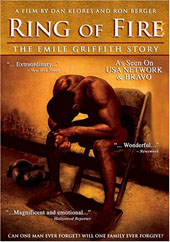 …ended with Griffith introduced to Paret's son, who embraced him and said he was forgiven.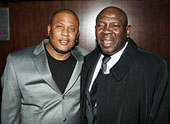 But Paret's widow Lucy refused to meet Griffith.
Griffith was said to have felt guilty and reportedly claimed he suffered nightmares about Paret for forty years.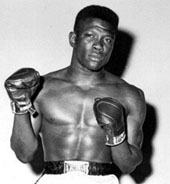 However, Emile himself suffered a vicious beating and was almost killed in 1992 on a New York City street after leaving a gay bar near the Port Authority Bus Terminal. Griffith was hospitalized for four months. He was once quoted in "Sports Illustrated" that he liked both men and women – favoring women a little more - but didn't like the words homosexual, gay or faggot. (Point made!)
Griffith died in July 2013 in Hempstead , Long Island suffering from" dementia pugilistic", which is a neurodegenerative disease that may affect boxers, wrestlers and others who suffer concussions.