Famously Dead A-Z:

Cause of Death:
View information about Bart Giamatti's death here on famously-dead.com. You can view information about Bart Giamatti's death and other famous deaths. You can view by name or by cause of death. We also have included the most popular famous deaths.
Bart Giamatti's Death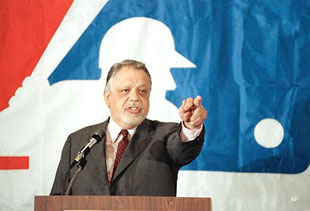 A. Bartlett Giamatti
Commissioner of Baseball, Educator
April 4, 1938
September 1, 1989
Heart Attack
The life and death of A. Bartlett Giamatti:
He had one of the briefest tenures ever as Commissioner of Baseball, but nevertheless made one of the sport's most momentous disciplinary decisions when he banned the game's all-time hit leader from the game for life, including the Hall of Fame, because of a gambling scandal.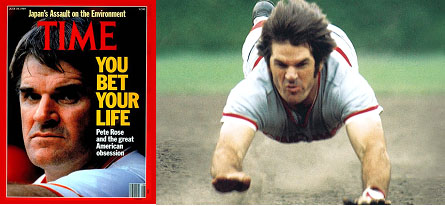 Angelo Bartlett Giamatti was born in Boston and grew up in South Hadley, Massachusetts. His father was a professor and chairman of the Italian Language Department at Holyoke College. "Bart", as he was known, followed in his father's footsteps and worked as a professor of English Renaissance literature and rose to the office of president of Yale University from 1978-1986.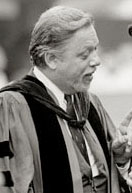 But his Boston roots also meant a lifelong love for baseball and his local Red Sox. And on April 1, 1989, he became the MLB Commissioner.
In his very brief, 154 day tenure, he ruled in the Pete Rose gambling case, banning the Reds' star for life on August 24, 1989.
About a week later, Giamatti died of a heart attack at his vacation home at the age of 51. He'd been a lifelong smoker, and the day before he died – the New York Daily News later reported – he'd received a warning about his health from a noted surgeon who became alarmed when he saw Giamatti' s image on TV. The doctor had seen warning signs of emphysema or lung cancer.
Giamatti was survived by his wife, Toni, whom he married in 1960. They had three children, including actors Paul…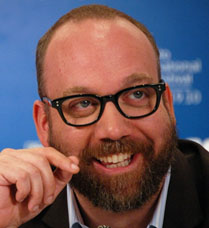 …and Marcus Giamatti…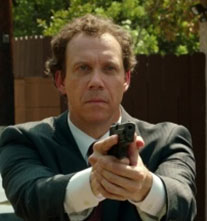 …and daughter Elena, a jewelry designed.
Giamatti's buried with his wife…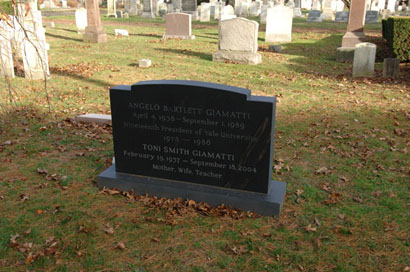 …at Grove Street Cemetery in New Haven, Connecticut.