Famously Dead A-Z:

Cause of Death:
View information about Alex Karras's death here on famously-dead.com. You can view information about Alex Karras's death and other famous deaths. You can view by name or by cause of death. We also have included the most popular famous deaths.
Alex Karras's Death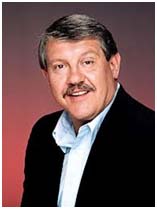 Alex Karras
Pro Football Player, Actor
July 15, 1935
October 10, 2012
Kidney failure complications
He enjoyed success in so many fields. Most people would have been happy to have done just one of the things he's remembered for.
Alex Karras grew up in Gary, Indiana, the son of a doctor who died when Alex was only 13. It was a football playing family. Older brother Lou played professionally for the Washington Redskins, and Ted – who was also older – played for the Chicago Bears and the Detroit Lions. Alex played college ball at the University of Iowa.
After being drafted in the first round by the Lions in 1958, he started a 12 year career as a standout defensive tackle.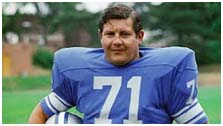 Karras was forced to miss the 1963 season though, as he and star running back Paul Hornung of the Green Bay Packers were suspended for one year, in a gambling scandal. He ended his playing career in 1971, at the age of 35.
As if a dozen seasons in the NFL wasn't enough, Karras turned to acting, picking up a role in George Plimpton's "Paper Lion", followed by guest appearances on the "Tonight" show. He also served three years as a color commentator on ABC's Monday Night Football.
He returned to acting, with a major role as the adoptive father on ABC-TV's "Webster".
He also appeared in full-length movies, mainly in comedic roles, with sometimes dramatic effects.
That's Alex as Mongo in the Mel Brooks comedy western, "Blazing Saddles." Other movie credits included "Victor, Victoria" and "Against All Odds."
He married his Webster co-star, and TV wife, Susan Clark in 1980 and they had a daughter together.
In his later years, Alex suffered from heart disease, cancer and dementia. He died from complications of kidney failure.