Famously Dead A-Z:

Cause of Death:
How did Aaron Hernandez die? Here on famously-dead.com, you can view information about Aaron Hernandez's death and other famous deaths. You can view by name or by cause of death. We also have included the most popular famous deaths.
Aaron Hernandez's Death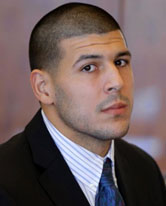 Aaron Hernandez
Football
November 6, 1989
April 19, 2017
Suicide
The life and death of Aaron Hernandez:
Tumultuous. That one word describes the life, career and death of this young athlete who gained fame as a football player, only to be convicted of murdering one man, acquitted in the killings of two others and who died in prison by his own hand less than a week later at the age of 27.
Aaron Josef Hernandez was born in Bristol, Connecticut. His father Dennis was of Puerto Rican ancestry and his mother Terri Valentine was of Italian descent. When Aaron was 16 his father died of complications after surgery and his mother claims the loss of his Dad led to a rebellious streak in Aaron.
However, he was also a talented receiver and defensive end at his local high school.
Aaron went on to become an All-American at the University of Florida, where he was a member of a BCS national championship team…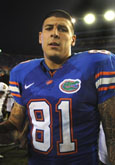 …Hernandez was selected by the New England Patriots in the fourth round of the 2010 NFL draft…

He quickly rose to stardom…
…and was selected for the Pro Bowl, the NFL's All-Star game, following his second year in the league.
But Hernandez's promising career in the National Football League, and perhaps his life itself, all came to a screeching halt when he was jailed and accused of murdering Odin Lloyd…

…a semi pro football player.
Aaron did have previous brushes with the law, including a 2007 bar fight in Gainesville Florida, in which prosecution was deferred.
And in 2012, law enforcement officials said he was being investigated for a double homicide in Boston when two men, Daniel Jorge Correia de Abreu and Safiro Furtado, were shot and killed in their car.

Taking selfies with a pistol never helps and he was eventually arrested and tried in the case.
More to come on that, because on June 26, 2013, officers from North Attleboro, Massachusetts and the Massachusetts State police arrested Hernandez at his home.

And it really all came crashing down around him on August 22, 2013 when he was indicted for murder in the Odin Lloyd case.
Hernandez claimed his innocence, but the Patriots' released him shortly after his arrest.

On April 15, 2015 Hernandez was convicted of first degree murder, which in Massachusetts carried a sentence of life in prison without parole, but no death penalty. But Aaron's life as a free man was over.
Then roughly two years later, on April 14th, 2017, Hernandez was acquitted in the deaths of Abreu and Furtado.
In the courtroom during jury deliberations, as his fiancé Shayanna Jenkins sat with the couple's daughter Avielle, Aaron blew them kisses….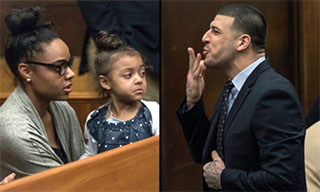 … less than a week before he hanged himself.
In the middle of the night, 3:05 am on Wednesday, April 19th, correction officers at the Souza-Baranowski Correctional Center in Lancaster, Massachusetts, found Hernandez hanged using his prison bedsheets and a window. He was pronounced dead an hour later.
No suicide note was found and he was not even on suicide watch because prison officials thought there was little risk he'd kill himself.
Hernandez's attorney Jose Baez even suggested his death could have been a murder and not a suicide saying Aaron had been in good spirits and was hoping his murder conviction would be overturned. Baez suggested Hernandez's death could have been at the hands of other inmates or perhaps prison authorities.
The next day, authorities confirmed Aaron died by his own hand. They said there were no signs of a struggle and that he left three notes. Although their contents were not revealed, the notes were turned over to his family. They also said that on the night before, Hernandez spoke on the phone with his long-time fiancé Shayanna until the 8 p.m. prison lockdown.
Aaron's body was turned over to his family and his brain was donated to sports concussion researchers.
Family, friends and some NFL stars attended private funeral services in his hometown of Bristol, Connecticut.
He was cremated and his ashes were given to his family.
Meantime, a report in Newsweek said that Hernandez may have killed Odin Lloyd, his former friend to cover up a secret that Aaron was bi-sexual.
In November, Boston University researchers revealed that Hernandez suffered the most severe case of chronic traumatic encephalopathy ever discovered in a person his age, including abnormal, large holes in parts of his brain. CTE, as it is often referred to, is football's most notorious health risk and part of the sport's continuing concussion concerns.