Famously Dead A-Z:

Cause of Death:
View information about Whitney Houston's death here on famously-dead.com. You can view information about Whitney Houston's death and other famous deaths. You can view by name or by cause of death. We also have included the most popular famous deaths.
Whitney Houston's Death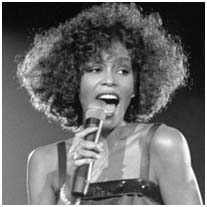 Whitney Houston
Singer, Actress, Model
August 9, 1963
February 11, 2012
Drowning
A sad and tragic end for a beautiful songbird.
Whitney Houston was one of the most popular recording artists ever, selling over 200 million records world-wide. Her hits included: "The Greatest Love of All", "Didn't We Almost Have it All", "I Wanna Dance With Somebody", "I'm Every Woman", "I'm Your Baby Tonight", "One Moment In Time", "Saving All My Love For You", "So Emotional", "Where Do Broken Hearts Go", "You Give Good Love", and a legendary rendition of the "Star Spangled Banner."
Eleven of her songs hit Number One on the Billboard list, like a three week run for "The Greatest Love of All" in 1986.
1987's "I Wanna Dance with Somebody" topped the chart for two weeks.
But Whitney's signature song came from the movie "The Bodyguard", and was an earlier hit for Dolly Parton, another well-known singer who wrote it.
That was in 1992 and stayed at Number One for 14 weeks.
Whitney was flying high, an international superstar famous for music, film and even modeling. That was also the year she married singer Bobby Brown after a three year courtship.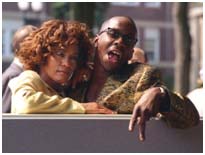 Their daughter Bobbi was born the next year.
Bobby had trouble with the law and even served some time jail. But Whitney was still going strong, winning three Grammys in 1994, and attending a White House state dinner that year honoring South African President Nelson Mandela.
But by the late '90's, things started to change. She started cancelling engagements or just showing up late for interviews and rehearsals. Rumors swirled about drug use. She was scheduled to appear at the 2000 Academy Awards but was fired by musical director Burt Bacharach, although her publicist cited throat problems. Whitney later admitted she was let go.
After years of turmoil, her marriage to Bobby ended in divorce in 2007.
Her "Nothing but Love Tour" in 2010 was supposed to be her comeback, but concert cancellations riled fans and a shaky voice led others to walk out of other performances early.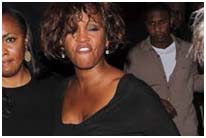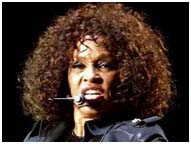 In September 2011, she announced a remake of the film Sparkle and it was released in August of that year.
But Whitney didn't make it that far.
In February, she travelled to Beverly Hills for the Grammy Awards, and was set to attend a pre-awards party hosted by record producer and music industry executive Clive Davis on the 11th.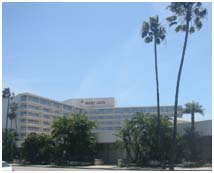 Whitney was found dead in her hotel bathtub, in what was later ruled an accidental drowning by the coroner. Cocaine use and atherosclerotic heart disease were blamed as contributing factors.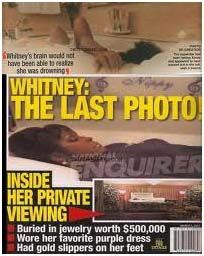 An invitation-only memorial service, attended by many superstars of the entertainment world, was held a week later in her hometown of Newark, New Jersey and she was buried in nearby Westfield.