Famously Dead A-Z:

Cause of Death:
View information about Perry Como's death here on famously-dead.com. You can view information about Perry Como's death and other famous deaths. You can view by name or by cause of death. We also have included the most popular famous deaths.
Perry Como's Death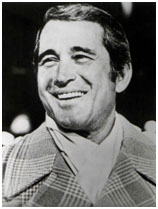 Perry Como
Singer
May 18, 1912
May 12, 2001
Alzheimer's Disease
The life and death of Perry Como:
From humble beginnings, he touched all the bases in voice- from radio to recordings to network television and became one of the most popular entertainers in America for more than fifty years. And he did with a strong reputation for a sense of class and good taste.
Pierino Ronald Como was born in Canonsburg, Pennsylvania, the seventh of 13 kids born to Pietro and Lucia Como. Perry was the first of his siblings to be born in the United States; his older siblings were born in Abruzzese, Italy.
Perry displayed musical talent as early as age three, playing songs on a second hand organ by ear. He learned to play a number of instruments but never had a voice lesson. He modeled his singer after star crooner Bing Crosby.
Perry started his working life as a barber, seen pictured here.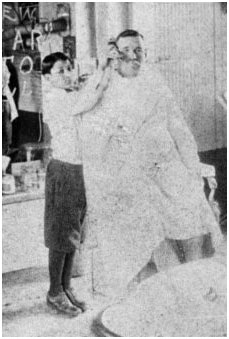 And he got his start in music in the Canonsburg Italian Band, led by bandleader, Stan Vinton, who was the father of singer Bobby Vinton.
He met Roselle Belline in 1929 and they married four years later, raising three children in a very non-show-biz home on the north shore of Long Island.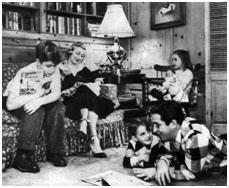 They remained married for 65 years until Roselle died suddenly in 1998, Perry deeply affected by the loss.
His career took him to club dates with Ted Weems's Orchestra and then radio - first at small, local stations and then to network jobs.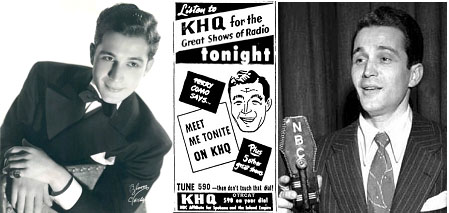 He also had a very strong recording career that lasted half a century, recording exclusively for RCA Victor.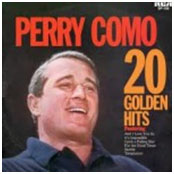 Como had fourteen number one songs and was the second most popular recording artist of the 1950, after Elvis Presley.
His first and biggest hit ever was "Till the End of time.
He hosted a very popular TV show on NBC for several years from the 1940s to the 60s.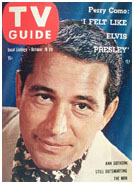 And at one point, his show was also shown in at least a dozen other countries.
Perry also had a seven year contract with 20th Century Fox and made five movies in the 1940's, Like "Doll Face" in 1945…
None of his movies were major hits. Besides, he wasn't comfortable with the role playing that didn't match his true personality.
His fame lasted willing to the 70s when you got another big hit with a song written by Don McLean
Perry died a few days shy of his 89th birthday. He'd been reported to be suffering from Alzheimer's Disease and died in his sleep
Perry Como and his wife are buried in Palm Beach County Florida in Tequesta's Riverside Memorial Park.