Famously Dead A-Z:

Cause of Death:
View information about Mindy McCready's death here on famously-dead.com. You can view information about Mindy McCready's death and other famous deaths. You can view by name or by cause of death. We also have included the most popular famous deaths.
Mindy McCready's Death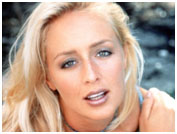 Mindy McCready
Singer
November 30, 1975
February 17, 2013
Suicide
The life and death of Mindy McCready:
This country music singer recorded five albums and one of them, 1996's "Ten Thousand Angels", went platinum while 1997's "If I Don't Stay the Night" went gold. However, she was only 37years old when she died of a self-inflicted gunshot wound.
Malinda Gayle McCready was a native of Fort Myers, Florida and began singing in church when she was only three. She headed to Nashville when she was 18 and recorded "Ten Thousand Angels" for BNA Records.
But the label dropped her when her sales faltered.
In June 2009, she had a deal to be part of the reality TV show "Celebrity Rehab with Dr. Drew" and it depicted her struggle with substance addiction.
Mindy's personal life included a 1997 engagement to actor Dean Cain…

…but they never married.
Other boyfriends included former NHL player Drake Berehowsky…

…and she had a long relationship with baseball star Roger Clemens,

…which reportedly started when she was 15.

The married Clemens denied the affair at first, and she was described by his attorney as a close family friend. McCready described their relationship as sexual.
Mindy had two children; a son Zander with singer Billy McKnight…

…in March 2006 and had a son Zane in April 2012, fathered by record producer David Wilson, who committed suicide on January 13, 2013.

She also had some legal problems, including an August 2004 arrest in Tennessee for buying the painkiller OxyContin with a fake prescription. At first pleading her innocence, but she later admitted it and was fined $4000, sentenced to three years' probation, and ordered to perform two hundred hours of community service. She also faced an identity theft charge in July, 2005 and probation violation charges a month later.
Another legal skirmish involved charges of battery and resisting arrest in her hometown of Fort Myers in July 2007, after an apparent scuffle with her mom. There were a couple of probation violations after that, which led to a month in jail in October, 2008.

And in February, 2013, her neighbors in Cleburne County Arkansas reported hearing gunshots and Mindy was found dead of a self-inflicted wound on her front porch.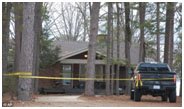 It was the very same porch that Wilson killed himself on a month and a few days earlier. Mindy also shot and killed the pet dog that had belonged to Wilson.
Her two children were in foster care and not at home when it happened.
Mindy McCready is buried at Alva Cemetery in Alva, Florida.