Famously Dead A-Z:

Cause of Death:
View information about Lisa Lopes's death here on famously-dead.com. You can view information about Lisa Lopes's death and other famous deaths. You can view by name or by cause of death. We also have included the most popular famous deaths.
Lisa Lopes's Death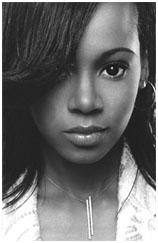 Lisa "Left Eye" Lopes
Music
May 27, 1971
April 25, 2002
Car Crash
The life and death of Lisa Lopes:
Her nickname was "Left Eye" and she was an American rapper, singer-songwriter and dancer, best known as a member of the hip-hop R&B group TLC, which were the initials of its three female members. Lisa Lopes only lived to the age of 30, killed in a car crash in Honduras just of the month of being involved in another car accident that killed a 10-year-old boy.
Lisa Nicole Lopes was born in Philadelphia and moved from place to place as the daughter of a U.S serviceman.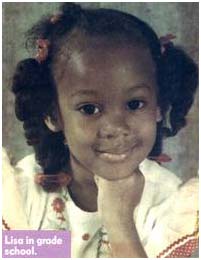 Lisa settled in Atlanta as a young adult and jumped into the city's music scene.
Lisa contributed on many of TLC's hit singles including their break through hit "Ain't 2 Proud 2 Beg"
The group's 1994 follow-up album, "Crazysexycool", sold more than 11 million copies in the United States alone. It and featured three No. 1 hits including "Creep," "Red Light Special" and "Waterfalls." The album earned TLC two Grammy Awards.
She got her nickname after being complemented by a man who said he was attracted to her because of her beautiful left eye. So she played it up…

…even wearing glasses with the one lens covered by a condom…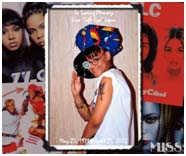 …promoting TLC's promotion of safe sex.
Her relationship with NFL player Andre Rison was notable…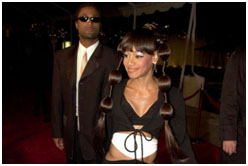 …because in 1994, she burned down the Atlanta mansion they shared, setting fire to his tennis shoes in the bathtub because she says he beat her and she wanted to get even. The whole place was torched.

Lisa was arrested and said burning the entire house was an accident. She was eventually sentenced to five years' probation and therapy at a halfway house. The incident was a permanent part of her reputation.
Lisa also had several tattoos including Rison's number 80 from his Atlanta Falcons jersey.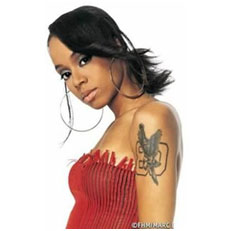 There it is on her arm, with an eagle in the middle.
The final days of her life were filmed and turned into the documentary, "The Last Days of Left Eye", which aired on VH1. This is a clip of her showering the day she died.
Lisa was killed in a Honduras car crash when the vehicle she was driving left the road.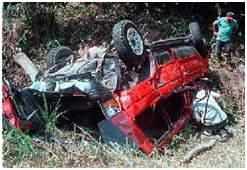 It's said she was swerving to avoid a collision with another vehicle. A front seat passenger was videotaping at the time, and the last seconds leading up to the swerve that resulted in the fatal accident were recorded on video, seen here.
Lopes was thrown out of the car and her injuries were fatal.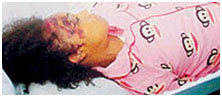 Lisa Lopes' funeral was held in Lithonia, Georgia…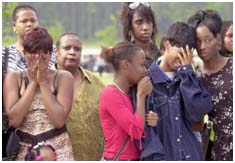 …thousands attended.
She's buried in Hallandale Memorial Gardens in Lithonia.