Famously Dead A-Z:

Cause of Death:
View information about Karen Carpenter's death here on famously-dead.com. You can view information about Karen Carpenter's death and other famous deaths. You can view by name or by cause of death. We also have included the most popular famous deaths.
Karen Carpenter's Death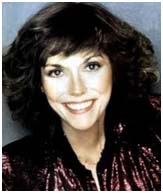 Karen Carpenter
Music
March 2, 1950
February 4, 1983
Heart Failure, due to Anorexia
She was the voice in a 1970's family act, as she and song writing brother Richard teamed up as The Carpenters.
Born in Connecticut, Karen liked playing baseball outside with the other kids, while her brother was a piano playing prodigy. The family moved to a Los Angeles suburb in 1963, and Karen took up the drums in high school, later gaining high praise for her drum playing skills.
But it was her singing that set her apart and she and Richard had a series of "70's hits, including "Close To You", "We've Only Just Begun", "Goodbye to Love", "Top of the World", "Yesterday Once More", "Only Yesterday" and the seasonal favorite "Merry Christmas Darling".
In the mid-1960's, she became very cautious about her weight, eating lean foods, avoiding fats and drinking eight glasses of water a day. By September 1975, she weighed 91 pounds. She was suffering from anorexia nervosa and bulimia, which weakened her heart and led to her death, a few weeks before her 33rd birthday.
A few months later, on October 12, 1983, the Carpenters received a star on the Hollywood Walk of Fame.