Famously Dead A-Z:

Cause of Death:
View information about Donna Summer's death here on famously-dead.com. You can view information about Donna Summer's death and other famous deaths. You can view by name or by cause of death. We also have included the most popular famous deaths.
Donna Summer's Death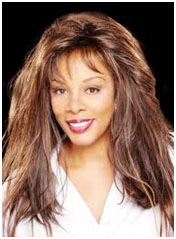 Donna Summer
Singer
December 31, 1948
May 17, 2012
Cancer
The life and death of Donna Summer:
Her fame is embodied by her nickname: Queen of Disco. Like one of her biggest hits, she really was hot stuff, capturing five Grammy Awards and she was the first artist to have three straight double albums hit number one on the Billboard album chart. She also had four number one singles within a 13 month period and reportedly sold over 100 million records, making her one of the biggest selling recording artists in history. In addition to dance music, she also later enjoyed success in the Gospel music field.
LaDonna Adrian Gaines was born and raised in a devout Christian family in Boston, Massachusetts. Her father was a butcher and her mother was a school-teacher. Mom once said LaDonna loved to sing from the time she was a little girl. As part of a middle-class family, she became involved with singing with church choir groups by the age of eight, before joining some bands influenced by the Motown sound.
Described as a popular high school student, she performed in school musicals and in 1967, just a few weeks before graduation, left Boston for New York, where she joined the blues rock band, Crow. She auditioned and won a role in the Munich production of "Hair", after gaining her parents' reluctant approval.
LaDonna Gaines became Donna Sommer when she married Austrian actor Helmet Sommer in 1979, when her singing career took her to Europe.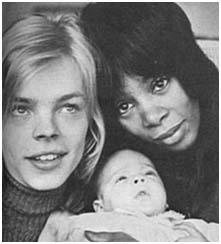 Pictured here with their daughter, Mimi, they divorced, but she kept his last name for her stage name, dropping the "o" in Sommer and replacing it with "u" for Summer and Donna Summer…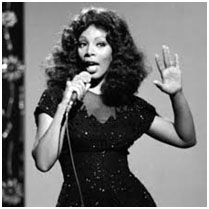 …was on her way.
She also linked up with German record producer Giorgio Moroder…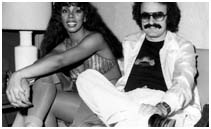 …and Pete Bellotte. She came back to the United States and co-wrote her first really big song, "Love to Love You Baby", with Bellotte. Donna later said she sang it the way she thought Marilyn Monroe would do it. It was released in 1975 and despite the fact that her moaning and groaning led to some controversy; it was a huge success, starting a flood of hits.
When "Hot Stuff" went from number one to number two and "Bad Girls" moved up from 3-5 on June 30, 1979, she became the first women two have two singles in the Hot 100's top three at the same time.
She also had a popular duet with Barbra Streisand, "Enough Is Enough"
Other huge hits included "I Feel Love", "MacArthur Park", "Last Dance", "Dim All the Lights", "No More Tears" and "On the Radio".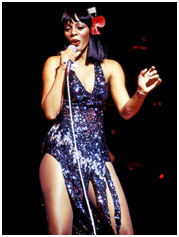 Donna was Queen of Disco and held court regularly at the Studio 54 nightclub in New York City.
Donna did struggle with depression and addiction, and she became a born-again Christian 1980. She was later diagnosed with lung cancer and believed she contracted the disease by inhaling toxic particles after the Nine Eleven attack on New York's World Trade Center.
She died at home in Naples, Florida of the disease in 2012, survived by her husband Bruce Sudano and daughters Mimi and Amanda.
Donna's funeral was held in Nashville, Tennessee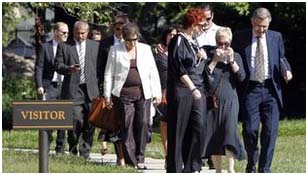 …and she's buried at Harpeth Hills Memory Gardens Cemetery in Nashville.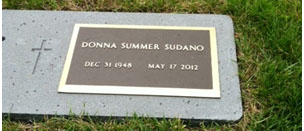 After her death, she was described as the undisputed queen of the 70's disco scene and was one of the world's leading female singers. Fittingly, in 2013, Donna Summer was inducted into the rock 'n roll Hall of Fame.