Famously Dead A-Z:

Cause of Death:
View information about Clyde McPhatter's death here on famously-dead.com. You can view information about Clyde McPhatter's death and other famous deaths. You can view by name or by cause of death. We also have included the most popular famous deaths.
Clyde McPhatter's Death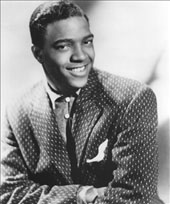 Clyde McPhatter
Singer
November 15, 1932
June 13, 1972
Alcohol abuse
The life and death of Clyde McPhatter:
His was one of the most popular voices in the early days of Rock n Roll. But his celebrity faded, leading him to despair, alcohol abuse and an early grave.
Born Clyde Lensley McPhatter in Durham, North Carolina, he grew up in a religious Baptist family, with father George, a Reverend, and his mother Beulah, a.k.a Eva. The church had a gospel group and Clyde started singing in it from the age of five. By the time he was ten he was handling the soprano solos.
The McPhatters moved north to Teaneck, New Jersey in 1945 and Clyde attended Chelsior High School while working part-time as a grocery clerk. The family's next moved laid the groundwork for Clyde's career in music, because when the McPhatters settled in New York City, Clyde founded a gospel group called the Mount Lebanon singers.
They won a competition at the Apollo Theatre and were recruited for Billy Ward & The Dominoes. The group went on to become one of the top rhythm & blues acts in the country, thanks to Clyde's high pitched voice. But McPhatter left the group in 1953 and formed "The Drifters", signing with Atlantic Records.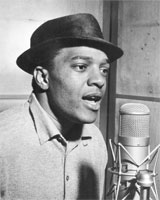 One of their hits was "Such a Night", later a cover version hit for Elvis Presley.
The Drifters released several R&B songs, but after a 1954 Army hitch, Clyde left the Drifters and went solo.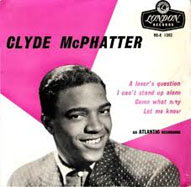 His biggest hit followed with "A Lover's Question"
Another big hit came with 1962's "Lover Please"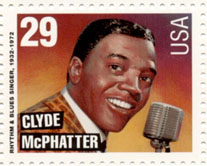 He fathered a child with Atlantic Records singer Ruth Brown…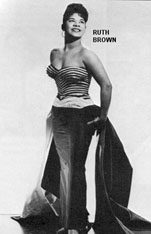 …and their son Ron toured with a group called Clyde McPhatter's Drifters
He'd left Atlantic for MGM Records but his popularity faded as the music scene changed dramatically. And it hit him hard, as he turned to alcohol. He was also embittered, telling an interviewer he had no fans.
He tried his hand in Britain, came back to the U.S. in 1970 but was only on a few revival tours. His dreams of hitting his big time stride again ended when he died in his sleep of complications from heart, kidney and liver disease, caused by his drinking. He died in the Bronx and was buried in Paramus, New Jersey at George Washington Memorial Park.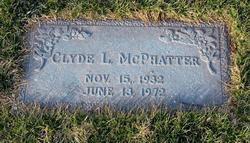 McPhatter was elected to the Rock & Roll Hall of Fame in 1987, although he didn't live to experience it.