Famously Dead A-Z:

Cause of Death:
How did Billie Holiday die? Here on famously-dead.com, you can view information about Billie Holiday's death and other famous deaths. You can view by name or by cause of death. We also have included the most popular famous deaths.
Billie Holiday's Death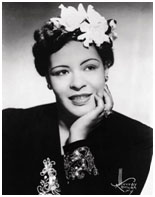 Billie Holiday
Singer
April 7, 1915
July 17, 1959
Heart and Liver Disease
The life and death of Billie Holliday:
She introduced a new vocal style, juggling phrasing and tempo, with strong influence from jazz musicians. As a result, she was a pioneer among singers in the jazz and pop music genres, with some critics saying she changed the art of singing forever. However, she had a tempestuous life, working as a prostitute as a teenager and addicted to narcotics as an adult. She not only had problems with the law, but also suffered an early death.
The name on her birth certificate was Eleanora Fagan, born to her unwed mother, Sarah Fagan. The man she recognized as her father, Clarence Holiday, was a musician who never married or even lived with her mother. In fact, a copy of her birth certificate in Baltimore lists her father as Frank DeViese, who lived in Philly and knew Sarah, whose nickname was Sadie, from work.
In any event, Sadie moved to Philadelphia when she was 16 after a falling out with her own parents in Baltimore after getting pregnant. However, with no means of support, Eleanora grew up in Baltimore under the care of her aunt, Eva Miller, her mom's half-sister.
Here's the little girl who grew up to be known as "Lady Day" at the age of two and a half.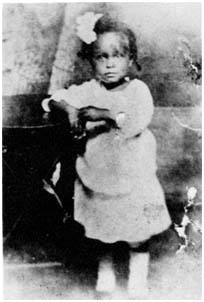 She had a tough childhood. Her mother worked on railroads and Eleanora was often left in the care of her aunt's mother-in-law. For the first ten years of her life, she missed her mother's care. Sadie married a man named Philip Gough, but it lasted only a couple of years and Sadie took off again on the railroad, leaving Eleanora in her aunt's home again.
The child cut out from school and ended up in juvenile court before she was ten. She dropped out of school altogether when she was 11.
On Christmas Eve, 1926, Sadie returned home to discover a neighbor raping her daughter. Not quite 12, the pre-teen was placed in protective custody and when she was released in February, 1927, she began running errands at a brothel. It was around this time she started hearing recordings by jazz pioneers Louis Armstrong and Bessie Smith.
Her mother left again in late 1928, moving to Harlem in New York City. She left Eleanora in Baltimore. On the eve of the Great Depression, the teenager joined her mother in New York. Sadie was a prostitute by now, and not quite 14, her daughter also started turning tricks at $5 per customer. The brothel was raided and mother and daughter both ended up in jail.
Back in Harlem, the now 14 year old started using her professional name, Billie – after actress Billie Dove – and Holiday, after her presumed father.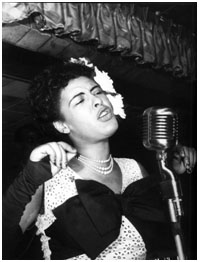 Billie's reputation grew as time went on and by the end of 1917 she was the lead singer at a Harlem club. People were noticing her evolving style, in which she sang like an improvising jazz musician. An early hit, in 1935 when she was 20, "What a Little Moonlight Can do."
Billie enjoyed a big 1936 success with "Summertime", from "Porgy and Bess"
Holiday started working with legendary jazz names like Count Basie and, after leaving Basie, joined Artie Shaw in 1937. Although they later became friends, Billie found herself in direct competition with pop singer Ella Fitzgerald.
Some of her biggest hits were yet to come, like "My Man."
Her mom, Sadie, was still very much in the picture. Billie laid out the money for Sadie's restaurant called Mom Holiday's. One day, after financing her mother, Billie was a little short on cash and asked her mother for some money. Sadie turned her down flat, and their subsequent screaming match led Billie to shout "God bless the child that's got his own", before stomping out. That was the seed of her most popular and most covered hit.
"Good Morning Heartache" was recorded in 1946.
In September of that year, she started work on her only major movie, "New Orleans". Billie didn't like the fact that her role was reduced to a house maid, because of racism and the anti-Communist push known as McCarthyism. She thought she would be portraying herself, singing some songs in a nightclub setting.
Her addiction to heroin was also a problem on the film set. She began using hard drug in the early 1940's. Married to trombonist Jimmy Monroe…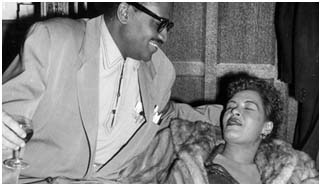 …she also had a relationship with trumpeter Joe Guy, a drug dealer. The marriage and relationship with Guy broke off in 1947.
She was arrested for narcotics possession in New York in 1947, but in the spring of 1948, played to a sell-out crowd in Manhattan's Carnegie Hall.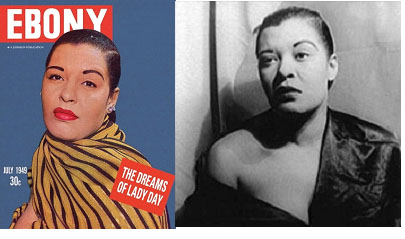 Fast forward to 1957, Billie married Louis McKay, who worked as muscle for the mob.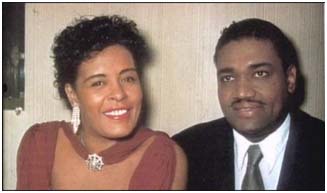 However, by this time, her drinking, drug abuse and relationships with abusive men started to grind down her health. In early 1959, Billie was diagnosed with cirrhosis of the liver and by May she was in New York's Metropolitan Hospital with heart and liver disease.
Sadly, Billie was placed under arrest for heroin possession while on her death bed. The liver damage brought on pulmonary edema and heart failure and she died at age 44.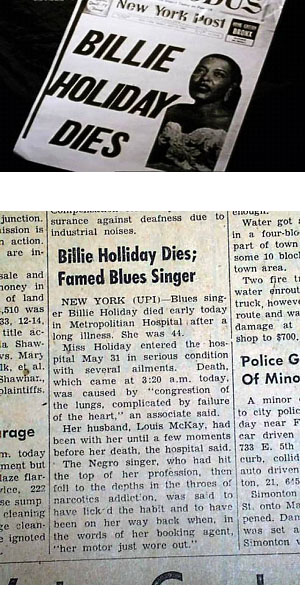 In her final years, Holiday was swindled out of her money and she died with only seventy cents in the bank, and $750 in her wallet. A funeral mass was held at the Church of St. Paul the Apostle in New York and Lady Day was laid to rest, with her mom…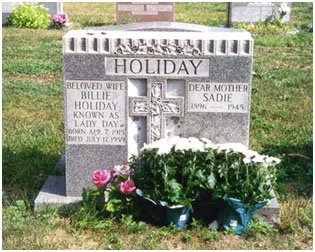 …at Saint Raymonds Cemetery in the Bronx, New York.
"Lady Sings the Blues" became the title of the movie made about her life, starring Diana Ross…
Billy Dee Williams portrayed her husband Louis McKay