Famously Dead A-Z:

Cause of Death:
View information about Theodore Roosevelt's death here on famously-dead.com. You can view information about Theodore Roosevelt's death and other famous deaths. You can view by name or by cause of death. We also have included the most popular famous deaths.
Theodore Roosevelt's Death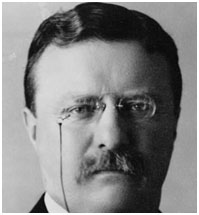 Theodore Roosevelt
Politics
October 27, 1858
January 6, 1919
Pulmonary embolism
The life and death of Theodore Roosevelt:
There's a reason his image is one of four on Mount Rushmore.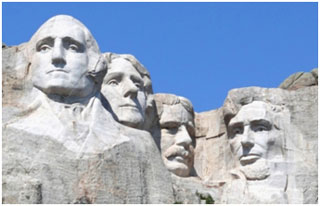 Like Washington, Jefferson and Lincoln, Theodore Roosevelt is regarded by many as one of the greatest American Presidents.
His list of accomplishments as President and in other phases of his life is almost staggering. In addition to his life in politics – in which he led the progressive wing of the Republican Party - he was an explorer, soldier, naturalist, historian and an author.
Theodore Roosevelt was born into wealth in Manhattan. His mother Martha was a socialite and his father was businessman/philanthropist Theodore Roosevelt Senior. Theodore was the second of four children and he suffered from asthma and generally poor health as a boy.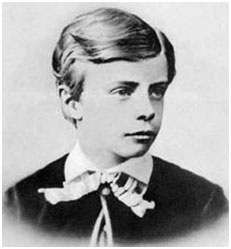 However, he was also described as energetic and was greatly influenced by his father, who'd helped to found New York's Metropolitan Museum of Art.
Mostly home schooled by his parents and tutors, he entered Harvard College in 1876, only to be devastated a year and a half later when his father died. After Harvard, Roosevelt studied law at Columbia University, but didn't like the legal field and set his sights on government service.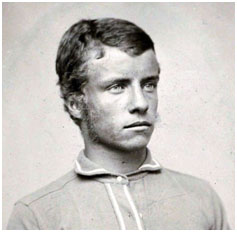 He wrote his first of many books in 1882, "The Naval War of 1812". People took note and he soon entered politics, winning election to the New York State Assembly and starting the Reform Wing of the state's Republican Party.
But then, tragedy struck again as his wife Alice and mother died on the same day in 1881.
Alice and Theodore had a daughter, also named Alice.
Roosevelt later married Edith Carow and they had five children.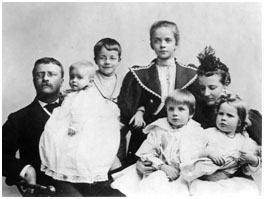 To clear his head after his first wife died, Roosevelt left for the Dakotas where he operated a cattle ranch. And when his herds died in a blizzard, he returned to New York and had an unsuccessful run for the office of mayor in 1886. But he became New York's Police commissioner in 1895 and later was Secretary of the Navy under William McKinley.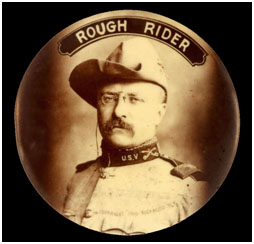 He quit and served as one of the Rough Riders, gaining national fame for his service in the war in Cuba.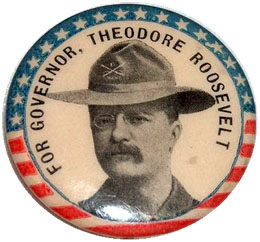 The returning war hero became Governor of New York and settled for the Vice Presidential nomination with McKinley in 1900. His political opponents thought they could silence him as the VP. But when McKinley was assassinated in September 1901, Teddy Roosevelt became the youngest President of the United States at age 41.
He embarked on an ambitious Progressive program, pushing anti-trust laws, and the breakup of John D. Rockefeller's Standard Oil Company. He worked to improve food and drug purity and established several national parks.
In foreign affairs, he launched the construction of the Panama Canal.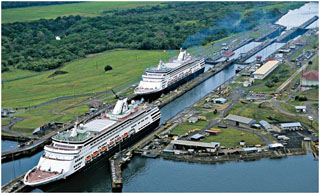 But he lost some support in Congress and turned the reins of his party to someone he thought was a kindred spirit, William Howard Taft. He later split with Taft over his policies and even waged primary battles and launched the Progressive Party to beat him. But Roosevelt fell short and Taft's wing of the GOP dominated the party for decades.
Roosevelt then left again, on a two year expedition of the Amazon rainforest and while planning a Presidential comeback in 1920, his health began to fail.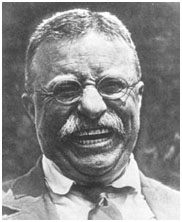 He died in his sleep when a blood clot travelled to his lungs at his home in Oyster Bay, Long Island.
Theodore Roosevelt was a legendary figure in several ways.
When he spared the life of a bear while hunting in 1902 …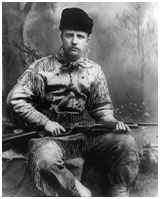 …a toy store owner invented a product and named it using Roosevelt's nickname: Teddy.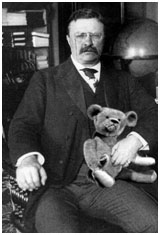 T-R, as he was known, even survived an assassination attempt. His steel eyeglass case and a fifty page campaign speech he was carrying blocked the bullet.
Roosevelt's buried at Young's Memorial Cemetery in Oyster Bay, New York.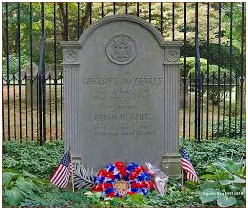 As one political leader of his day mused: Death had to take Roosevelt in his sleep, because if he'd been awake, there would have been a fight.