Famously Dead A-Z:

Cause of Death:
View information about Stonewall Jackson's death here on famously-dead.com. You can view information about Stonewall Jackson's death and other famous deaths. You can view by name or by cause of death. We also have included the most popular famous deaths.
Stonewall Jackson's Death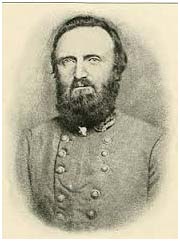 Stonewall Jackson
Government
January 21, 1824
May 10, 1863
Pneumonia
The life and death of Stonewall Jackson:
When you think of Confederate War generals, Robert E. Lee definitely comes to mind first. But this is the field leader who generally comes to mind next and when Thomas "Stonewall" Jackson died, the South suffered a critical blow. Military historians call him one of the most gifted tactical commanders in American history.
He was born Thomas Jonathan Jackson in what is now Clarksburg, West Virginia and grew up in the Blue Ridge Mountains, the third child of Julia Beckwith and Jonathan Jackson.
His father and a sister died of typhoid fever and in 1830 his mother remarried to an attorney named Blake Woodson, who didn't like his step-kids. She died from complications of child birth a year later and Thomas and two siblings were left orphaned. He was seven years old.
He eventually lived with his father's sister, but her husband treated him as an outsider and he ran away to live with an uncle who Thomas admired as a school teacher. He helped around their farm.
In 1842, Jackson was accepted to the U.S Military Academy at West Point and became known as one of the hardest working cadets.
He began his military career in the Mexican American War from 1846-1848 and that's where he met Robert E. Lee.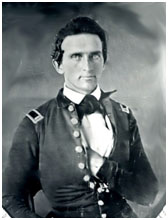 After that war, he was assigned to forts in New York and Florida and in 1851 accepted a teaching position at the Virginia Military Institute. Parts of his curriculum are still taught at VMI, including discipline, mobility and assessing the enemy's strengths and plans.
Jackson didn't have much time for humor and once tried to have a cadet dismissed for pulling a prank on him. He didn't eat much, living mainly on milk and crackers and liked to take catnaps.
He fought for the South in the Civil war and historians have noted he never spoke for or against slavery. He earned his famous nickname, Stonewall, at the First Battle of Bull Run as his troops provided critical support. Another general said he stood there like a stone wall.
After leading troops in several battles, Jackson was wounded in what today is called a "friendly fire" incident. He and his staff were mistaken for a Union Calvary force and he was hit three times, two in the left arm and one in the right hand.
He lost the arm to amputation and about a week later, died from complications from pneumonia. His last words were: "Let us cross over the river, and rest under the shade of the trees."
Jackson's death had a deep impact on both civilians and soldiers in the South and he's memorialized with this statue at the Manassas, Virginia battlefield.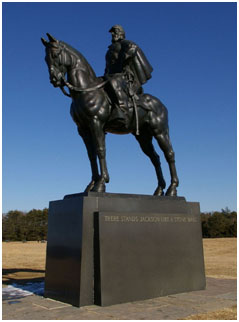 He's also still remembered in popular culture. The ghost of Stonewall Jackson makes an appearance in the 2013 film "Anchorman 2."