Famously Dead A-Z:

Cause of Death:
View information about Rosa Parks's death here on famously-dead.com. You can view information about Rosa Parks's death and other famous deaths. You can view by name or by cause of death. We also have included the most popular famous deaths.
Rosa Parks's Death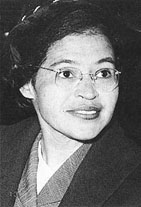 Rosa Parks
Civil Rights Activist
February 4, 1913
October 24, 2005
Natural Causes
The life and death of Rosa Parks:
There was little indication in the early part of her life that she would make history but she became a civil rights icon when she refused to give up her seat on an Alabama bus.
Rosa Parks was born in Tuskegee, Alabama and attended rural schools until moving to Montgomery when she was eleven years old. She was active in the Civil Rights Movement as early as 1943 when she joined the NAACP chapter in Montgomery. She worked as a secretary there.
And then came a December day in 1955, when she refused to follow a bus driver's order to give up her seat on this bus…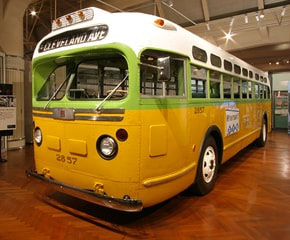 …for a white passenger. That started her on a civil rights career that became legendary in American history.
She died of natural causes at the age of 92 in Detroit and she ended up being only the third non U.S. government official and the first woman to lie in honor in the Capitol Rotunda.
For more information about her life and battles, view Rosa Parks Arrest.