Famously Dead A-Z:

Cause of Death:
View information about Robert Schuller's death here on famously-dead.com. You can view information about Robert Schuller's death and other famous deaths. You can view by name or by cause of death. We also have included the most popular famous deaths.
Robert Schuller's Death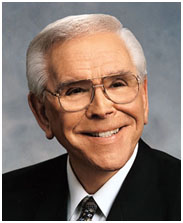 Robert Schuller
Televangelist Minister, Author
September 16, 1926
April 2, 2015
Cancer
The life and death of Robert Schuller:
He got his start preaching from the top of the concession stand of a Southern California drive in movie theatre and eventually became a world famous televangelist, known for his weekly "Hour of Power" TV program. But his Crystal Cathedral hit hard times after he retired and there was turmoil in his family. By the time he died at the age of 88, he'd been out of the public spotlight for years.
Robert Alton Schuller was born near Alton, Iowa – the youngest of four children born in a family of Dutch descent. His father Anthony and mother Jennie had a farm in the tight knit Dutch-American community. Schuller later said he had an uncle recommend that he be an evangelist just before his fifth birthday and remembered it as the most significant event of his early life.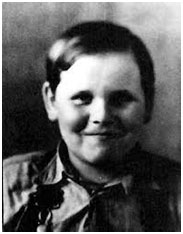 Robert studied at Hope College and received his Master of Divinity at the Western Theological Seminary. Ordained as a minister in 1950 in the Reformed Church of America, he worked in Riverdale, Illinois before moving out to California.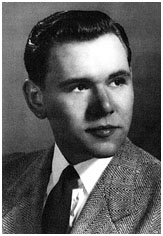 And that's where he started the Garden Grove Community Church in 1955 in a drive in movie theatre.

His slogan was "come as you are in your family car", as he tapped into the growing auto culture of his surroundings. His grandson later said that Jesus went to the people, he didn't sit around waiting for them – a message his famous grandfather successfully put to the test.
It was later expanded to its own building.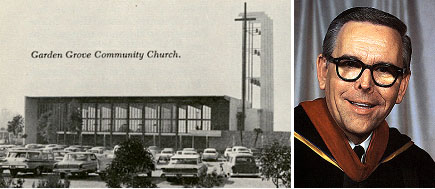 By 1961 the church had a new home and in 1970, "the Hour of Power" hit the air, and Schuller's audience grew exponentially. Schuller built his glass and steel Crystal Cathedral in Garden Grove in 1980…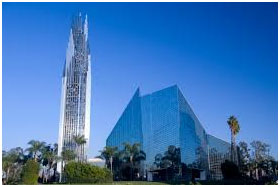 …to house the TV ministry and at its peak in the 1990's, his program had twenty million viewers in about 180 countries. Schuller also wrote more than thirty books, including five "New York Times" best sellers.
Borrowing from Norman Vincent Peale's "Power of Positive Thinking", Schuller preached the "Power of Possibility".
But it all fell apart when Schuller installed his only son, Robert, as pastor in 2006. The leadership transition was a flop and Robert Jr. left two years later in a bitter family feud.
Schuller's daughter then took over, but the Crystal Cathedral was sold off in 2011 to the Roman Catholic Diocese of Orange, California and there were sharp declines in viewership that eventually left the ministry bankrupt.
Sculler was close to several Presidents - including Bill Clinton - something his Conservative Republican congregants found tough to swallow.
Schuller died of esophageal cancer at the age of 88.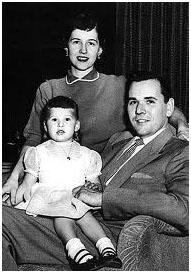 Besides his son, Schuller and his wife had four daughters: Sheila, Jeanne, Carol and Gretchen. Wife Arvella Schuller, a longtime ministry partner and organist, died February 11, 2014, after a brief illness.