Famously Dead A-Z:

Cause of Death:
View information about Nelson Mandela's death here on famously-dead.com. You can view information about Nelson Mandela's death and other famous deaths. You can view by name or by cause of death. We also have included the most popular famous deaths.
Nelson Mandela's Death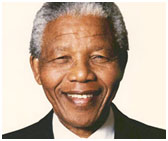 Nelson Mandela
Government
July 18, 1918
December 5, 2013
Lung disease
The life and death of Nelson Mandela:
Revolutionary…Politician…Philanthropist. President of his country. These all describe the life and accomplishments of Nelson Mandela. But he achieved even more, considering the outpouring of love and respect he received when he died at the age of 95.
When he was born in South Africa's Cape Province, his parentage included tribal leaders and kings. His grandfather was named Mandela, from which his last name was derived. He also came to be known by his clan name, Madiba, in his later years.
Neither of his parents could read or write but they were devout Christians and his mother saw that he attended a local Methodist school when he was about 7 years old. His father – who'd been destined to be a tribal chief - died when Mandela was about nine of what Mandela thought was some kind of lung disease. He was then sent to live with a local regent, whom Mandela said treated him like one of his own children.
Christianity became a major part of his life and he studied at a Methodist mission school, developing a love for African history. He even originally considered the European colonists as benefactors, and not oppressors. That would change and because it did, Mandela changed the course of the country's history and the lives of millions of South African blacks.
His studies continued at Healdtown, a Methodist College and in 1939 he enrolled at the University of Fort Hare, considered Africa's equivalent of Harvard or Oxford.
When the regent arranged a marriage for Nelson, he ran away from his adoptive home and settled in Johannesburg.
Mandela became involved in the anti-apartheid movement in 1942. Apartheid was a system of racial segregation in South Africa, in which the white descendants of the Dutch colonialists held all the political power through their National Party governments. It was developed after World War II, although racial segregation along skin color lines (Black, White, Colored and Indian) began during colonial Dutch rule.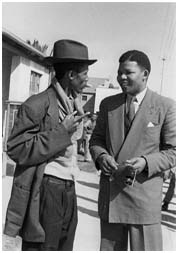 For 20 years, Mandela led a campaign of non-violent, peaceful defiance against the system.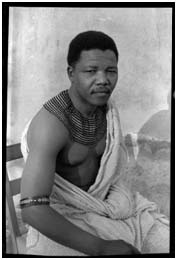 But in 1956, Mandela and 150 others were arrested on charges of political treason for their anti-apartheid activities. And by 1961 - although once committed to nonviolent protest - Mandela switched his view, concluding that an armed struggle was the only way to get change.
Arrested for leading a three day national workers strike in 1961, Mandela was sentenced to five years in prison. And in 1967, he was tried again and sentenced to life behind bars for political crimes, including sabotage.
He spent 27 years in prison, 18 of them on Robben Island, which is where he contracted tuberculosis. However, he did earn a Bachelor of Law degree though a correspondence program.
In 1982, Mandela was moved to Pollsmoor prison, supposedly to make it easier for the South African government to make contact with him. And in 1986, South African President P.J. Botha offered Mandela his release from prison, if he would renounce violence.
Mandela replied with a flat out no.
But when Botha suffered a stroke and was replaced by F.W de Klerk, Mandela was freed from prison, in February 1990.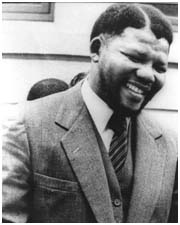 Mandela was then elected President of the African National Congress and continued negotiations with de Klerk for South Africa's first multi-racial elections. While many White South Africans agreed to share power, many blacks wanted a complete transfer. The talks became strained and there was violence.
However by 1993, Mandela and President de Klerk dismantled apartheid and were name joint winners of the Nobel Peace Prize. A year later, in April 1994, South Africa's first democratic elections were held and Mandela was sworn in as the country's first black President in May of that year. (De Klerk was first deputy.)
In 1995, more prestige came to South Africa when it hosted the Rugby World Cup tournament and Mandela used the event for reconciliation of the races, encouraging blacks to support the once hated South African national team.
By 1999, Mandela had retired from active politics but he continued to raise money for schools and clinics throughout his country. And he also published several books about his life and struggles, including "No Easy Walk to Freedom", "Nelson Mandela: The Struggle is my Life"; and "Nelson Mandela's Favorite African Folktales."
Mandela was married three times. He and Evelyn Mase had four children together. She died in 1957 and Mandela then married Winnie Madikizela in 1958 and they had two daughters. The couple split in 1996 and in 1998 Mandela married Graca Michel, with whom he lived the rest of his life.
Diagnosed with prostate cancer in 2001, Mandela announced his formal retirement from public life in June 2004, at age 85. He'd live another nine years and that period was highlighted by a 2007 meeting of world leaders, including former U.S. President Jimmy Carter. He also led a fight against AIDS, which claimed the life of one of his sons. His last public appearance came at the 2010 World Cup in South Africa, but he also met with visiting U.S. First Lady Michelle Obama during her 2011 trip to his country.
Mandela died December 5, 2013 and leaders from dozens of countries attended a memorial service in his honor, which was followed by a formal funeral.
The date of his birth, July 18, is Mandela Day in South Africa, and it's designed to encourage people around the world to give back, the way Nelson Mandela did.