Famously Dead A-Z:

Cause of Death:
View information about Meir Kahane's death here on famously-dead.com. You can view information about Meir Kahane's death and other famous deaths. You can view by name or by cause of death. We also have included the most popular famous deaths.
Meir Kahane's Death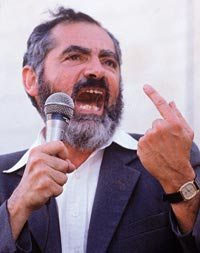 Meir Kahane
Religious Leader, Politics
August 1, 1932
November 5, 1990
Shooting
The life and death of Meir Kahane:
This fiery rabbi was an extreme advocate for Jewish causes, and was a pioneer in the creation of far right wing Jewish militant and political groups. He founded the Jewish Defense League in the United States and an Israeli political party that was later banned for being racist. He was embroiled in other controversy, convicted for conspiracy to make explosives in 1971. Ultimately, he was killed by an assassin.
He was born Martin David Kahane, in Brooklyn into an Orthodox Jewish family. His father was a rabbi and author and was also involved in the Revisionist Zionism movement. As a teenager Martin became a follower of some of the leaders of that movement.
Young Martin was also active in protests against British Foreign Secretary Ernest Bevin, who maintained restrictions on immigration of Jews to Palestine after the end of the Second World War.
Martin's formal education included elementary school at the Yeshiva of Flatbush and he went to Abraham Lincoln High School and the Brooklyn Talmudical Academy. He also earned a B.A. in Political Science at Brooklyn College and a law degree at the New York Law School.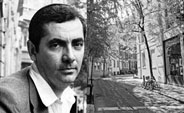 Kahane married Libby Blum in 1956 and they had four children. By 1958 he became a rabbi at the Howard Beach Jewish Center in the New York City borough of Queens. While he was there, he angered some parents by influencing youngsters to adopt a more observant lifestyle.
Kahane trained musician Arlo Guthrie for his bar mitzvah….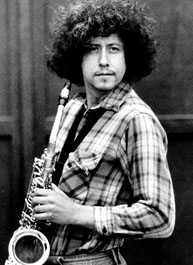 …and he also wrote for the "Jewish Press", an American Jewish weekly.
Kahane also employed the persona of a nonreligious person using the pen name David Sinai and Michael King, among other aliases. He started to express strong anticommunist positions to counteract U.S. opposition to the Viet Nam war. He even tried to acquire and grow biological weapons to use on a Soviet military facility.
Around this time Kahane also began using the phrase "Never Again" and dreamt up the insignia of the Jewish Star and a fist.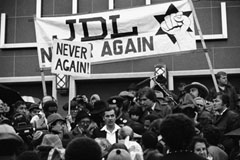 Kahane's Jewish Defense League was founded in New York City in 1968. It was designed to protect Jews from anti-Semitism. However the Anti-Defamation League said Kahane was preaching a radical form of Jewish nationalism reflecting racism and violence.
And a number of JDL members, including Kahane, were convicted of domestic terrorism acts in the United States. He was given a five-year sentence in 1971 for conspiring to manufacture explosives. And in 1975, was arrested for leading the attack on the Soviet U.N. mission and injuring two police officers.
When Kahane immigrated to Israel in 1971 he declared he would focus on Jewish education there but in 1980 was arrested for the 62nd time since his arrival there and put in jail for six months, following charges he planned to armed attacks against Palestinians for the killings of Jewish settlers.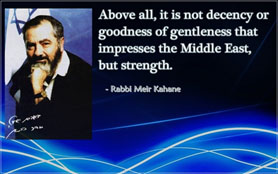 He was banned from entering the United Kingdom in 1981.
In November 1990, Kahane gave a speech to an audience of mostly Orthodox Jews from Brooklyn, warning Americans to move to Israel before was too late. As a crowd gathered around him in the second floor lecture hall at the midtown Manhattan area Marriott East Side Hotel, he was gunned down – mortally wounded on the left side of his neck .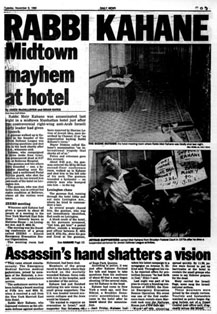 An Egyptian born American citizen, El Sayyid Nosair…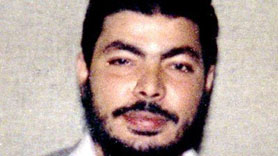 …was arrested and tried but later acquitted of murder.
Prosecutors were able to retry him later on a federal indictment including the killing is part of an alleged terrorist conspiracy and Nosair was sentenced to life imprisonment..
In the aftermath of Kahane's murder, there were angry protests in Israel.
Kahane's buried in Jerusalem's Har HaMenuchot Cemetery.
This monument to him stands at the Kryat Arba settlement on the West Bank.