Famously Dead A-Z:

Cause of Death:
View information about Marion Barry's death here on famously-dead.com. You can view information about Marion Barry's death and other famous deaths. You can view by name or by cause of death. We also have included the most popular famous deaths.
Marion Barry's Death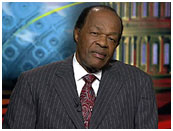 Marion Barry
Politics
March 6, 1936
November 23, 2014
Heart Attack
The life and death of Marion Barry:
He's famous as the most influential local politician in the nation's capital for 25 years, serving as Mayor for four terms and as a city councilman in the other time periods. But Marion Barry is also notorious for an arrest that occurred when he was busted for smoking crack cocaine.
Marion Berry Jr., his name at birth, was born to Marion and Maddie in the Mississippi Delta town of Itta Bena, and was raised in Memphis, Tennessee after his sharecropper father died when Marion was only four years old.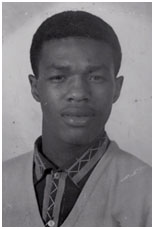 As an undergraduate at LeMoyne College, he picked up the nickname "Shep", in reference to a Soviet politician named Dmitri Shepilov and he began using Shepilov as his middle name.
Barry later did graduate work in chemistry at Nashville's Fisk University earning a Master's Degree but stopped short of a doctorate to start working in the civil rights movement In the 1960s. He was arrested several times while participating in Civil Rights sit-ins as a member of the Nashville student movement and then as the first chairman of the Student Nonviolent Coordinating Committee, also known as SNCC.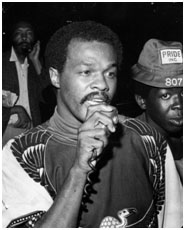 In 1979, Barry came to national prominence as Mayor of Washington, DC being the first prominent civil rights activist to become the mayor of a big American city.
He was sworn in by U.S. Supreme Court Justice Thurgood Marshall.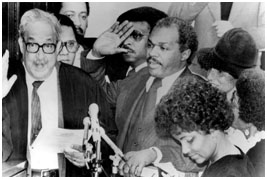 But on January 18, 1990 his fame turned to notoriety when he was videotaped smoking crack cocaine and he was arrested by the FBI on drug charges.

Barry was apprehended in the company of a young woman, who he claimed had set him up.
But it didn't end his political career. While his arrest and trial prevented Barry from seeking re-election, and he served six months in a federal prison, after his release he was elected to the Washington D.C. City Council and ultimately was re-elected mayor in 1994, serving from 1995 to 1999.
He was a popular and influential local figure it Washington D.C. politics, despite his history of political and legal controversies, which included IRS tax charges and traffic violations. And along the way, he picked up another nickname: "Mayor for Life", which was also the title for the book about his life.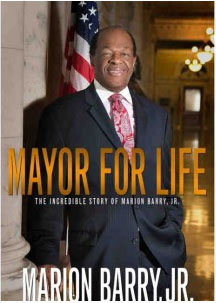 Marion Barry was married three times and had a son, Christopher.
He died in the early morning hours of November 23, 2014 at the age of 78. He's been released from Howard University Hospital the day before and died outside of his home of a heart attack.