Famously Dead A-Z:

Cause of Death:
View information about Jimmy Hoffa's death here on famously-dead.com. You can view information about Jimmy Hoffa's death and other famous deaths. You can view by name or by cause of death. We also have included the most popular famous deaths.
Jimmy Hoffa's Death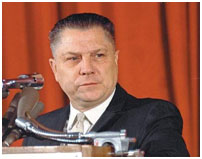 Jimmy Hoffa
Politics
February 14, 1913
July 30, 1975
Unknown / Vanished
The life and death of Jimmy Hoffa:
James Riddle Hoffa. Ironically, his middle name – his mother's family name – is also his legacy. A riddle. It's impossible to report the cause of death for this labor leader. That's because no one has ever confirmed what happened to him. No one's heard from him since he vanished in the summer of 1975. Numerous attempts to find him or his remains have failed and he's presumed long dead, the probable victim of murder.
Hoffa was born in Brazil, Indiana to native Hoosiers with Pennsylvania Dutch roots, John Hoffa and Viola Riddle Hoffa. When Jimmy was seven years old, his father died and the family moved on to Detroit, where he remained for the rest of his life.
Jimmy dropped out of school in his very early teens and did manual labor full time to help support the family. As a teenager working in a grocery chain, he began union-organizing work. That job paid low wages with poor working conditions and little job security. Jimmy impressed his fellow workers and became a leader in their unionizing effort.
He married Josephine Poszywak in 1936 and they had two children, Barbara Ann and James, Junior.
He also became an important national figure in the International Brotherhood of Teamsters, representing truck drivers and warehousemen. Rising through the ranks of the union, Hoffa became the union president between 1958 in 1971.
However, he had a tumultuous, controversial career.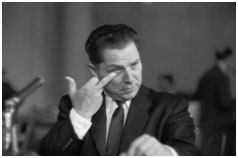 In 1957 he came under Senate investigation, as noted in this give-and-take with Robert Kennedy, later to become the Attorney General of the United States.
Suspected of collaborating with organized crime, Hoffa avoided conviction for several years, but his notoriety grew.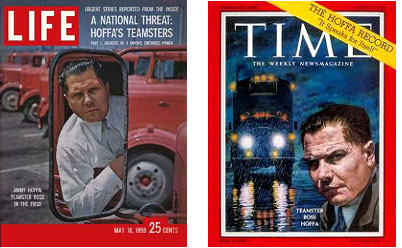 RFK, as Attorney General, kept the heat on. Hoffa was convicted of jury tampering, and attempted bribery in 1964. After three years of unsuccessful appeals, Hoffa went to jail in 1967 to begin serving a thirteen year sentence.
Jimmy appointed his long-time union ally Frank Fitzsimmons as acting President of the Teamsters before entering prison. Soon after gaining control, Fitzsimmons started distancing himself from Hoffa, angering his former mentor.
In December, 1971 – less than five years into his prison term – Hoffa was released from prison when President Richard Nixon commuted his sentence to" time served". Hoffa resigned his union role as part of the deal and was restricted from re-entering union politics until 1980.
However, Hoffa attempted to overturn the order and regain support. Fitzsimmons also stood in his way, along with other powerful rivals.
It's suspected that alleged ties to organized crime had much to do with his ultimate downfall. Hoffa was last seen in July 1975 outside a suburban Detroit restaurant. His disappearance gave rise to many theories as to what happened to them.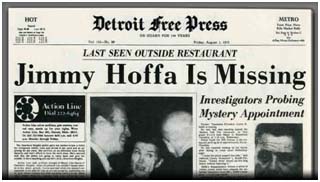 Various searches proved fruitless.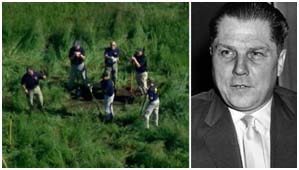 Urban legend had it that Hoffa is buried at Giants Stadium in Rutherford, New Jersey.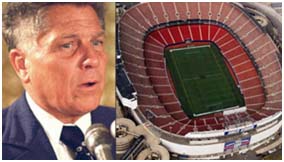 Nothing was ever found bearing out those suspicions. Ironically, with perhaps some poetic justice, Giants Stadium vanished too. Its site is now part of the parking lot for its replacement venue, MetLife Stadium.