Famously Dead A-Z:

Cause of Death:
View information about Harvey Milk's death here on famously-dead.com. You can view information about Harvey Milk's death and other famous deaths. You can view by name or by cause of death. We also have included the most popular famous deaths.
Harvey Milk's Death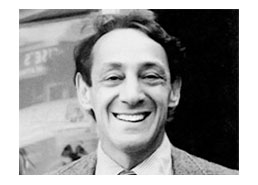 Harvey Milk
Government, Political Activist
May 22, 1930
November 27, 1978
Shooting
The life and death of Harvey Milk:
He was a trailblazer - the first openly gay person to be elected to public office in California, winning a seat on San Francisco's Board of Supervisors. But he wasn't political or a gay-rights activist until he turned 40. His counterculture experiences of the 1960s let him to step out into the spotlight.
Harvey Milk was born in the New York City suburb of Woodmere, Long Island. His parents William and Minerva were Jews from Lithuania and his grandfather, Morris Milk, helped establish the first synagogue in the community. Harvey's seen here as a four year old with his older brother, Robert.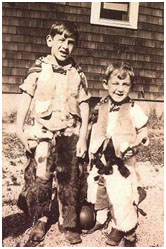 Harvey was known as the class clown as a school-boy and was ribbed by his fellow students over the size of his nose, ears and feet. Milk played football and developed a taste for opera as a youth. However, while he acknowledge that he was homosexual while still a teenager, Harvey stayed in the closet.
After graduating from Bay Shore High School in 1947, Harvey attended what's now the State University at Albany campus. Milk was a math major who wrote for the college newspaper and no one there suspected he was gay.
Harvey served in the Navy in the Korean War and after his discharge returned to Long Island as a high school teacher. In 1956, he met a man named Joe Campbell, who was seven years younger than Harvey and they moved in together. They left New York for Dallas (out of boredom) only to return to New York a short time later. The couple separated after close to six years, ending what would be the longest romantic relationship of Harvey's life.
Milk secretly pursued his gay lifestyle in New York, after considering marriage to a lesbian friend so they'd each have a cover story while pursuing their own affairs.
San Francisco then beckoned – a counterculture mecca that soon had the largest gay population of any major American city. However, Milk continued drifting from California to Texas to New York. When he returned to San Francisco, Harvey took a greater interest in politics and civic affairs.
He became active in the cause of Gay Rights and made national headlines when he was elected Supervisor for the fifth district in San Francisco.

But he served less than a year, from January 8, 1978 until November 27th of that year, when his career and his life were cut short.
On the same day that Harvey was sworn in, so was another San Francisco Supervisor named Dan White…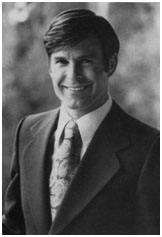 …the man who would eventually take Harvey Milk's life and the sitting Mayor of San Francisco, George Moscone.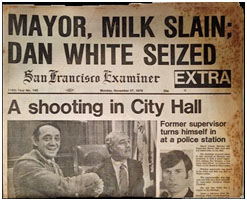 For more on the Harvey Milk's story we invite you to read on by clicking here on the highlighted name of George Moscone.