Famously Dead A-Z:

Cause of Death:
View information about George Armstrong Custer's death here on famously-dead.com. You can view information about George Armstrong Custer's death and other famous deaths. You can view by name or by cause of death. We also have included the most popular famous deaths.
George Armstrong Custer's Death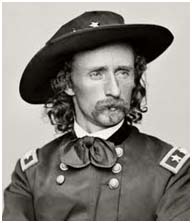 George Armstrong Custer
Military
December 5, 1839
June 25, 1876
Shooting
When it comes to American military generals, he is remembered as the leader in one of the Army's most celebrated defeats ever. The Battle of Little Big Horn erased George Armstrong Custer's previous battlefield accomplishments, but perhaps reflected his lack of success at West Point -- where he graduated last in his class of 34 cadets of June 1861.
In fact, Custer was almost expelled from West Point several times because of the demerits he received for pulling pranks on his fellow cadets. But in 1861, there was a Civil War underway, and the Union Army needed all of the trained officers that they could get, so Custer and his class graduated a year early.
Custer's family came to America from Germany's Rhineland region, but he was born in Ohio. He had two younger brothers, Thomas and Boston, and they died on the same day - and in the same way that he did - in the Little Big Horn debacle.
Custer had enjoyed some early success in the army. His men received the first truce flag from Confederate soldiers and Custer was there at the Appomattox Courthouse…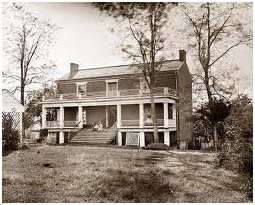 …when Robert E. Lee surrendered to Ulysses S. Grant to the end of the Civil War.
And in the Indian wars that followed, one of his nicknames was "Hard Ass", for both his ability to stay on horseback for long periods of time and for his strict discipline.
Custer took some time off from the military, considering career options in New York City in railroads and mining. But he returned to the Army and his spotty performance continued. He was court martialed in 1867 at Fort Leavenworth, Kansas for being AWOL for abandoning his post to visit his wife, Elizabeth. He was allowed to return to duty in 1868.
By 1874, Custer's tour of duty in the Black Hills of the Dakotas came at a very dark time. Americans continued to push west, breaking treaties, and exploiting the land for gold. The native tribes, including the Lakota Sioux and Cheyenne, fought back. Now President, U. S. Grant set a deadline at the end of January, 1876 for the tribes to get back to their reservations or be considered hostile.
In the spring and summer of that year, Sitting Bull…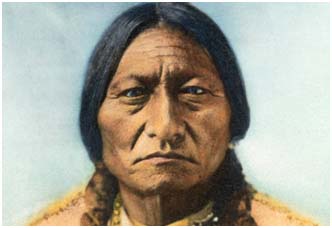 ...a Hunkpapa Lakota holy man, called what today would be considered a convention. It was the largest gathering of Plains Indians ever, first in Montana and later at the Little Big Horn River in South Dakota to discuss what to do. And that was the huge coalition the U.S Army met. They had no idea of the size of the opposing force.
Custer split his forces into three units. One of them was overrun by mounted Lakota and Cheyenne warriors.
Custer and his men were outflanked by Crazy Horse and his men. But Custer thought he had the upper hand. Just before he was killed, he told his unit "We've got them! We'll finish them up and then go home to our station."
They never made it out.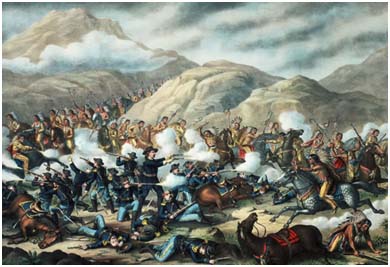 When Crazy Horse…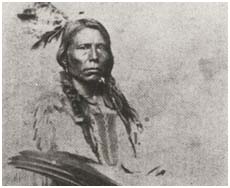 …and White Bull…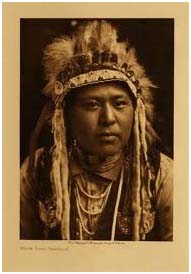 …led the charge right through the middle of Custer's lines, chaos ensued. Some of the Army soldiers threw down their weapons and ran. Custer ordered his men to shoot their horses and crouch behind them for shelter. It didn't work and they were all killed. And the Battle of Little Big Horn had a new name: "Custer's Last Stand."
Custer himself suffered two key wounds: one near his heart and the other in the head, near his left temple. Most of his solder's remains were stripped, scalped and otherwise mutilated.
After the Battle of Little Big Horn, President Grant criticized Custer's actions, saying it was a wholly unnecessary massacre brought on by Custer himself. General Philip Sheridan was also critical. But not everyone in the military judged Custer as harshly. General Nelson Miles, who became known himself as an Indian fighter, and others offered praise, calling Custer a fallen hero let down by his subordinates. There's still disagreement about Custer's legacy to this day.
Many Americans considered George Armstrong Custer was a true hero and patriot for giving his life in the battle of Big Horn and he's honored with counties named after him in half a dozen states. Towns in Minnesota and Michigan are named after him
And Custer National Cemetery…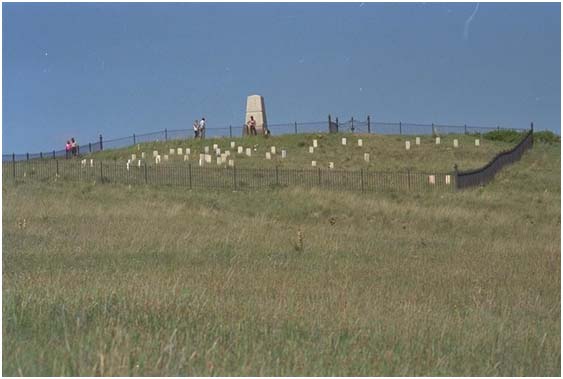 …rests within the Little Bighorn Battlefield National monument…

…where George Armstrong Custer is buried.