Famously Dead A-Z:

Cause of Death:
View information about Eleanor Roosevelt's death here on famously-dead.com. You can view information about Eleanor Roosevelt's death and other famous deaths. You can view by name or by cause of death. We also have included the most popular famous deaths.
Eleanor Roosevelt's Death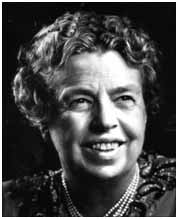 Eleanor Roosevelt
First Lady of the United States, Rights Activist
October 11, 1884
November 2, 1962
Heart Failure
The life and death of Eleanor Roosevelt:
She's the longest-serving First Lady of the United States, during her husband Franklin's unprecedented - and now impossible to duplicate - four terms as President. And she forged her own mark on the world with her crusades for human, civil and women's rights.
Born Anna Eleanor Roosevelt in New York City, she preferred to be called by her middle name from the time she was a child. She was a niece, through her father Elliot…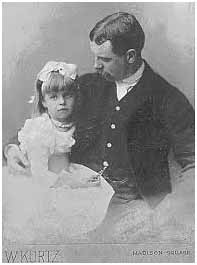 …of President Theodore Roosevelt. Growing up surrounded by great wealth and privilege, her family was part of New York City's high society.
But her mother Anna died of diphtheria when she was only 6, and a few months later a brother died of the same disease. Her father was an alcoholic who was confined to a sanitarium. He died in August 1894, just a few months shy of her tenth birthday, when he tried to jump out of a window during a fit of delirium. He survived the fall but died of a seizure. Another brother was also an alcoholic.
These childhood tragedies left Eleanor prone to depression for the rest of her life.
Raised by her maternal grandmother, Mary Ludlow, biographers say Eleanor considered herself unattractive.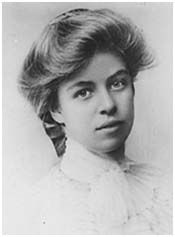 But at age 14, she wrote that one's chances in life didn't only hinge on physical appeal. She attended schools in England and learned to speak French, returning to the United States in 1902 at the age of 17. That summer she meant Franklin Delano Roosevelt…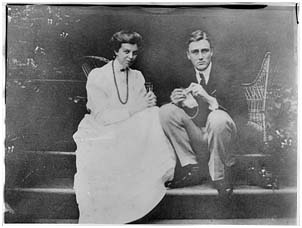 …her father's fifth cousin. They started a secret romance and were engaged to be married in November 1903. However, Franklin's autocratic mother, Sara, did not approve and tried to delay the romance, to the point of spiriting her son away on a cruise in 1904.
But the young couple persevered and a wedding date was set on March 17, 1905 so that Uncle Teddy, the sitting President, could give the bride away. Franklin and Eleanor were then off on a three month European honeymoon.
Over the years, they had six children, although Eleanor claimed to dislike sex, calling it "an ordeal to be borne." She wasn't crazy about her very controlling mother-in-law either, who tried to raise the kids.
By 1918 Franklin's romance with Eleanor's social secretary, Lucy Mercer…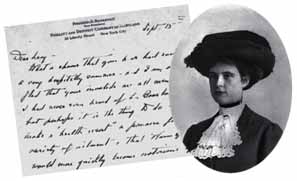 …was discovered and caused quite a stir. FDR considered leaving Eleanor, but his mother said if he did, she would disinherit him….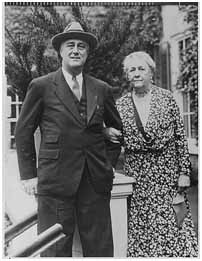 …so he stayed.
In 1921, the Roosevelt family suffered another blow when Franklin was stricken with polio while vacationing at Campobello Island in Canada. He lost the use of his legs. Mother Sara said he should become a country gentleman, but Eleanor argued that he should remain politically active. FDR's resume went on to include a stint as Assistant Secretary of the Navy, Governor of New York and a four-time President of United States, before dying in office in 1945. Eleanor was First Lady.
Eleanor had some "other friendships" of her own, apparently falling in love with an AP reporter the 1930s. Her name was Lorena Hickok.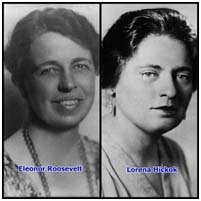 In the 1930's, she wrote lengthy letters to Lorena every day, telling her things like "I kiss your picture goodnight and good morning." But word of the relationship doomed Hickok's career as a reporter and so she quit her job, with Eleanor getting her a position as an investigator in a New Deal program. Historians disagree over the depth of their relationship.
Eleanor was also linked romantically in Washington gossip with New Deal administrator Harry Hopkins.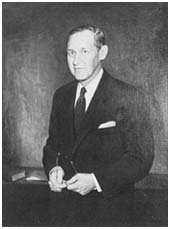 And she had a close relationship with New York State Police Sgt. Earl Miller…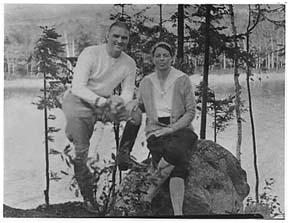 …whom her husband had assigned as her bodyguard. Some close associates disagree over whether they had a physical relationship, although their friendship is said to have continued until she died.
After FDR's death, Eleanor, who'd fought for civil rights during her husband's administration, continued her activism. She was appointed as a U.S. delegate to the U.N. General Assembly. And in 1946, she became the first head of the U.N. Commission on Human Rights.
There were other causes for her to fight for and President John F. Kennedy appointed her to chair a Presidential Commission on the Status of Women, along with serving his administration at the U.N. and on an advisory committee for the Peace Corps.
Now in her 70's, Eleanor was diagnosed with aplastic anemia in 1960 and in the fall of 1962, she died of cardiac failure in a Manhattan home at age 78.
Eleanor is buried next to Franklin in Hyde Park, New York.

And a monument is dedicated to her New York City's Riverside Park.