Famously Dead A-Z:

Cause of Death:
View information about Edward Cardinal Egan's death here on famously-dead.com. You can view information about Edward Cardinal Egan's death and other famous deaths. You can view by name or by cause of death. We also have included the most popular famous deaths.
Edward Cardinal Egan's Death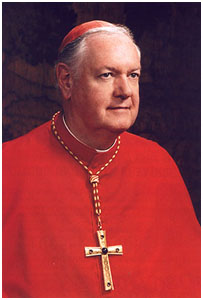 Edward Cardinal Egan
Archbishop of New York
April 2, 1932
March 5, 2015
Heart Failure
The life and death of Edward Cardinal Egan:
He was the first Archbishop of New York to retire, since all of his predecessors had died in office. But he led one of the most prominent Archdioceses in the United States during the dark days of the 2001 terror attacks on the World Trade Center, during which he anointed the dead at a lower Manhattan hospital and presided over many victims' funerals.
Edward Michael Egan was born in Oak Park, Illinois. His parents Thomas and Genevieve were originally from Ireland. In 1943 both he and his older brother came down with polio and they both missed two years of school while recuperating at home.
He attended the archbishop Quigley Preparatory Cemetery and then attended St. Mary of the Lake Seminary, preparing for the priesthood. He was ordained in December 1957 and went to Rome in 1960 to pursue his doctoral studies.
As his influence blossomed he was appointed auxiliary bishop of New York in 1985 and later named Bishop of Bridgeport Connecticut in November 1988. By May 2000 he was the head of the Roman Catholic Church in New York City, named Archbishop of New York.
And he was elevated to Cardinal by Pope John Paul II in February 2001.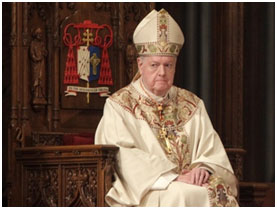 An astute administrator and fundraiser, Cardinal Egan reversed multi-million dollar deficits in the New York Archdiocese by closing parishes and laying off staff.
He had strong beliefs against abortion, comparing tolerating the death of an unborn baby in the womb to the reasoning used by Adolph Hitler and Joseph Stalin.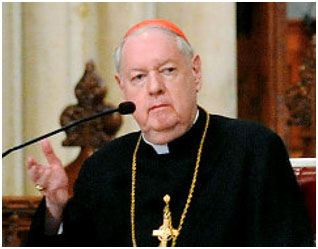 And as Cardinal he spoke against the idea of gay marriage, criticizing Hollywood for desecrating marriage and destroying it. But he thought the priests at least should be considered to be allowed to marry saying the clerical celibacy could be open to discussion.
Friends said he was reserved and shy and he certainly didn't have the warm relationship with the media enjoyed by his predecessor Cardinal John O'Connor or his successor, Cardinal Timothy Dolan.
In June 2003, Egan was accused of concealing the names of priests swept up in the Church's child molestation scandal but was found not guilty by the Church. When Connecticut's Supreme Court ruled in May 2009 that records about sex abuse by priests in Bridgeport be released, the case opened the possibility of providing some embarrassing details for then-Bishop Egan.
Starting in December 2006, he hosted The Catholic Channel on Sirius XM Radio and in his ministry spoke five languages, including English, Latin, Spanish, French and Italian.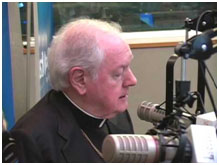 After his retirement In February 2009, he continued to serve the Archdiocese, often attending events on behalf of Cardinal Dolan. And in a lighter moment, Cardinals Egan, Dolan and Justin Rigali once took time out to pose with a different Cardinals' uniform.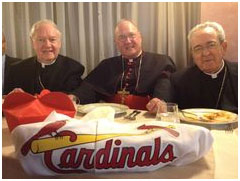 Egan died at his Manhattan residence on March 5, 2015 - suffering a fatal heart attack right after finishing his lunch. He was said to be feeling fine right up to that point.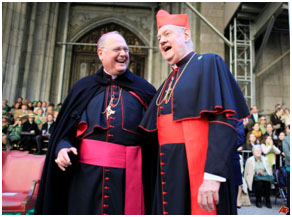 His death publicly announced by successor, Timothy Cardinal Dolan.