Famously Dead A-Z:

Cause of Death:
View information about Chris Kyle's death here on famously-dead.com. You can view information about Chris Kyle's death and other famous deaths. You can view by name or by cause of death. We also have included the most popular famous deaths.
Chris Kyle's Death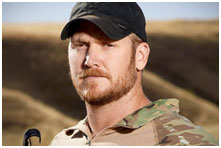 Chris Kyle
Highly Commended Solider
April 8, 1974
February 2, 2013
Shooting
The life and death of Chris Kyle:
He was proclaimed the most lethal sniper in American military history. This Navy SEAL received two Silver Star Medals, five Bronze Star, a Navy and Marine Corp Commendation Medal and two Navy and Marine Corps Achievement medals. Ironically, he was shot to death at a Texas shooting range by a fellow veteran he was trying to help.
Christopher Scott Kyle was born and raised in Odessa, Texas, the son and a Sunday school teacher named Wayne and his wife Deby Lynn. Chris' father bought him his first rifle when he was eight and they used it for deer, quail and pheasant hunting.
Chris attended high school in Midlothian, Texas and played baseball and football but after graduation joined the Armed Forces, at first looking at the Marines with a special interest in special operations. As he was leaving the recruiting office, a Navy recruiter told him about the Navy SEALs and he joined the Navy in 1999.
He was assigned to SEAL team 3, as a sniper. Chris served four tours in the Iraq War and insurgents nicknamed him the "Devil of Rhamadi", offering rewards to get him.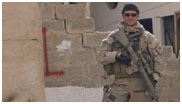 They never got him, but he got plenty of them.
He had 255 confirmed kills, and detailed his career as a Navy SEAL in his autobiography.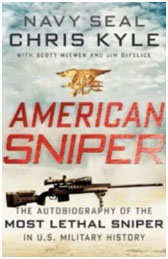 In his book, he told of shooting an insurgent from about 2100 yards away. That's the amazing equivalent of 21 football fields, end zone to end zone.
He also went on TV to talk about his years in the service, seen here interviewed by Conan O'Brien on TBS.
Kyle left the Navy in 2009 and settled in Midlothian with his wife Taya and their two children.
H also was involved in a controversial altercation with former Minnesota Governor (and professional wrestler) Jess Ventura in 2012. In January, Ventura sued Kyle for defamation, rescued to drop the suit despite Kyle's death and was awarded $1.8 million dollars by a federal jury in Minnesota. The money came out of the assets of Kyle's estate.
Shockingly, on Saturday, February 2, 2013, Kyle and his friend Chad Littlefield were killed at a shooting range in Erath County, Texas. The shooter was a 25 year old Marine Corps vet named Eddie Ray Routh.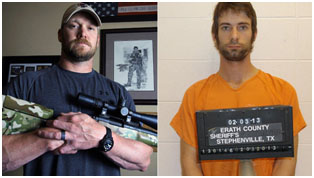 They'd taken Routh with them when they were told by his mother that he was suffering from Posttraumatic Stress Disorder (PTSD).
Routh made a run for it and was captured. His trial is scheduled for February 2015.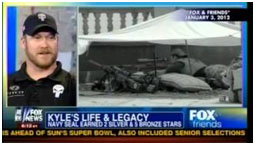 Craig Kyle's memorial service was held at Cowboys Stadium Arlington, Texas.

Hundreds of people lined the 200 mile route to view his funeral procession and pay their final respects.
Kyle was portrayed by Bradley Cooper in the 2014 movie "American Sniper", nominated for six Academy Awards for including Best Picture and Best Actor (Cooper).
Chris is buried at the Texas State Cemetery in Austin.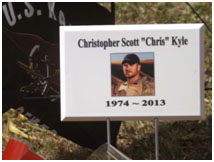 And there's a life-sized bronzed statue of him, remaining for now in an undisclosed location at a North Texas Foundry. His family will decide where it will be located.

"American Sniper' was widely snubbed at the Oscars on February 22, 2015, winning only one Academy Award for sound editing.
Then, a few days after the Awards ceremony, Eddie Ray Routh…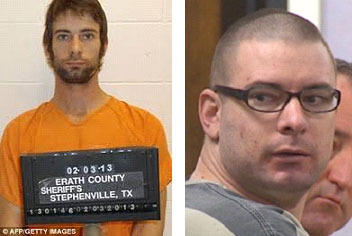 …was convicted of the murder of Kyle and Chad Littlefield.
The jury rejected defense claims that the ex-Marine suffered from psychosis when he gunned the two men down at that Texas shooting range.
Routh now faces life behind bars – receiving an automatic life sentenced without parole.