Famously Dead A-Z:

Cause of Death:
View information about Anne Boleyn's death here on famously-dead.com. You can view information about Anne Boleyn's death and other famous deaths. You can view by name or by cause of death. We also have included the most popular famous deaths.
Anne Boleyn's Death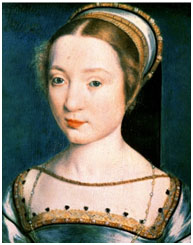 Anne Boleyn
Government & Politics
1501
May 19, 1536
Decapitation
The life and death of Anne Boleyn:
She was the woman who was at Ground Zero for the creation of the Church of England and the mother of one of England's greatest monarchs. It all resulted from a controversial and turbulent relationship with a King who pursued her in defiance of a Pope and then saw that she was beheaded, after she was accused and found guilty of incest and adultery.
Anne was born in 1501, the daughter of the Earl of Wilshire, Thomas Boleyn, and his wife, Lady Elizabeth Howard. She studied abroad in the Netherlands and France, returning to England in 1522 to marry, but the plans failed and she joined the court as a maid of honour to King Henry VIII's wife, Catherine of Aragon – the Queen of England.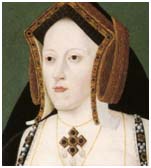 By 1526 Anne…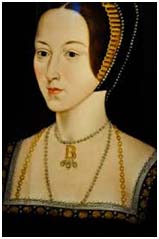 …caught the King's eye…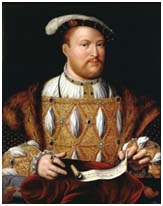 …and he tried to seduce her, but she resisted and refused to become his mistress, like her own older sister, Mary Boleyn…
…who bore two of his children, though Henry VIII didn't acknowledge them.
Henry was persistent though, and promised her he'd leave Queen Catherine for her. He wanted his marriage annulled, even though he and Catherine had a daughter, Mary. The couple's son Henry died when he was only 52 days old and Henry was frustrated that Catherine wasn't providing him with another male heir. Catherine was formally stripped of her title as queen and Anne was crowned queen consort.
However, for all of his planning to ditch Catherine and to marry Anne, the head of the Roman Catholic Church, Pope Clement VII, wouldn't annul his marriage. Henry defied the Pope. His marriage to Catherine was declared null and void and five days later, he and Anne were married.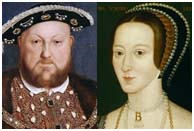 With that, Henry was excommunicated from the Roman Catholic Church, triggering the English Reformation and the establishment of the Anglican Church.
Anne was crowned Queen of England on June 1, 1533, but her reign didn't even last three years. In September of that year, she had their daughter Elizabeth – the name of both of the child's grandmothers. While Henry was hoping for a son and disappointed, he claimed to love the baby and was sure a son would eventually be born.
Anne was known for her sharp mind and tongue and spent extravagantly on gowns, jewelry and other luxuries befitting the Queen of England. Some of her subjects didn't like her, calling Anne "the king's whore" and blaming her for his tyrannical government.
She became pregnant another three times, and suffered miscarriages every time. Public opinion sank because she didn't produce a son. In January 1536, when word of Catherine of Aragon's death reached the court, the King and Anne were jubilant. Anne tried to mend her relationship with her step-daughter Mary, Catherine of Aragon's daughter, but was rebuffed.
With Catherine dead, the pregnant Anne surmised that if she didn't produce a male heir, Henry could marry again without fear of any accusation of illegality and by that time, Henry was already courting Jane Seymour, another future Queen. When Anne caught Jane sitting on the King's lap, she flew into a rage and suffered a miscarriage a short time later. It was the beginning of the end of her marriage to Henry and her life.
With the help of his advisor Thomas Cromwell, with whom Anne had political differences, Henry conspired to get rid of Anne. By April, a musician named Mark Smeaton was arrested and accused of being the Queens' lover – which he first denied, but later confessed. Another courtier, Henry Norris, was similarly accused and denied it and said Anne was innocent, but in an overheard conversation she accused him of improperly coming to her chambers.
Henry had her investigated for high treason in 1536, when she was arrested and sent to the Tower of London where she was tried and found guilty of adultery, incest and witchcraft. Among the crimes she was charged with, having an affair with her brother, George Boleyn.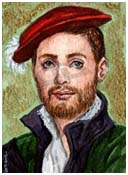 Arrested on May 2nd, Anne was found guilty as charged on May 15, 1536. Her brother and the other accused men were executed on May 17th and two days later, Anne was decapitated with a single swing of the executioner's axe …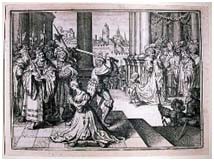 …on the north side of the Tower of London…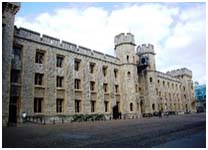 …at what's now known as the Waterloo Barracks.
She was buried in an unmarked grave, her skeletal remains later to be found during renovation of the Chapel of St. Peter ad Vincula. Her resting place is now marked in the marble floor.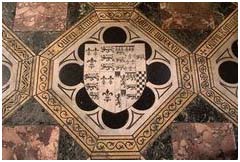 When her daughter Elizabeth became Queen, Anne was honored as a martyr and the heroine of the English reformation.
Anne Boleyn is remembered in modern culture in film, like the movie "Anne of the Thousand Days", starring Genevieve Bujold as Anne and Richard Burton as Henry VIII.
She was also portrayed by actress Natalie Dormer in the Showtime miniseries "The Tudors."
Henry the VIIIth went on the have six wives, succeeded by his son Edward VI, son of Jane Seymour. Crowned at age nine, Edward VI died at age 15. Succession was disputed, and his half-sister Mary – Catherine of Aragon's daughter - eventually succeeded him and reigned for five years, restoring Catholicism and executing Protestants. Her enemies nicknamed her "Bloody Mary."
Mary I was succeeded by Anne Boleyn's daughter, Elizabeth, who reversed her half-sister's religious decision. Queen Elizabeth I…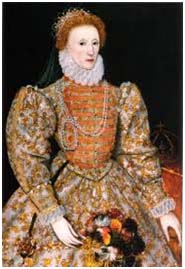 …reigned for forty four years as one of England's most famous and revered monarchs, and the last in the Tudor dynasty.