Famously Dead A-Z:

Cause of Death:
View information about Alexander Hamilton's death here on famously-dead.com. You can view information about Alexander Hamilton's death and other famous deaths. You can view by name or by cause of death. We also have included the most popular famous deaths.
Alexander Hamilton's Death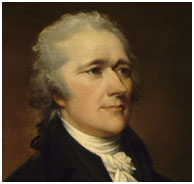 Alexander Hamilton
Government & Politics
January 11, 1755 or 1757
July 12, 1804
Shooting
The life and death of Alexander Hamilton:
This is the man who laid the groundwork for much of the U.S. political and financial systems. As one of the Founding Fathers, he was a key aide to George Washington during the Revolutionary War and a fierce promoter of the U.S. Constitution as the leader of the Federalist Party. He backed a strong central government, at the expense of state powers.
Alexander Hamilton was also the first U.S Treasury Secretary and established the national bank, one of the nation's oldest private banks and one of the oldest newspapers in the United States.
He's also the man who penned the rule that the President of the United States must be born in the country, to protect against foreign influence. However, he made many enemies as a stylish rogue in old New York, and lost his life in a duel with a political rival, across the Hudson River in Weehawken, New Jersey.
Alexander Hamilton was born out of wedlock in the West Indies to Rachel Faucette and James Hamilton. He started attending grammar school in Elizabethtown, New Jersey in 1883. Orphaned as a child, some local wealthy men helped send him to New York's King's College, which is now known as Columbia University.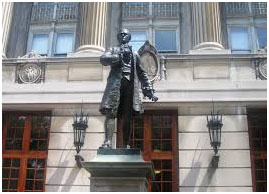 There's a statue of him at Columbia today.
He was a fierce supporter of a strong U.S. central government and was instrumental in the formation of the U.S. banking system. Hamilton also established the Bank of New York in 1784. It still operates today under the name Bank of New York Mellon.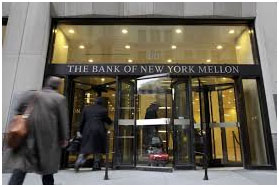 Hamilton was instrumental in the creation of the United States Mint and he also established the New York Post newspaper…

…still published today as a division of News Corp.
He and his wife Elizabeth had eight children. Hamilton also had several affairs, including one to a woman named Maria Reynolds.
He also developed several enemies along the way. Hamilton helped Thomas Jefferson defeat Aaron Burr when they tied for the Presidency in the Electoral College in 1801. And he made a mortal enemy in the process.
Hamilton also later criticized Burr when the Vice President ran for Governor of New York in 1802 and their feud ended in a duel in 1804 in which Hamilton was shot and killed.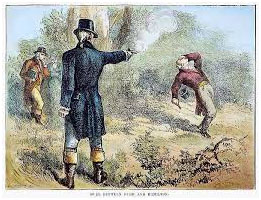 The long time face of the U.S. ten dollar bill…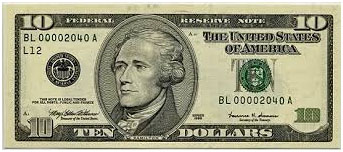 Hamilton is fittingly buried in the world famous New York City Financial district, at New York City's Trinity Church.