Famously Dead A-Z:

Cause of Death:
View information about Yuri Gagarin's death here on famously-dead.com. You can view information about Yuri Gagarin's death and other famous deaths. You can view by name or by cause of death. We also have included the most popular famous deaths.
Yuri Gagarin's Death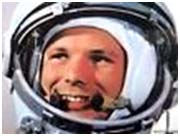 Yuri Gagarin
Cosmonaut, Pilot
March 9, 1934
March 27, 1968
Plane Crash
The first man to orbit the earth in space died in a plane crash.
Yuri Gagarin became an international celebrity after taking this ride for the Soviet Union on April 12, 1961.
He was dead seven years later. For reasons that are still not entirely clear, although sparing the Soviets the embarrassment is what some guess, the truth about Gagarin's death took more than 45 years to surface. And it comes from Aleksey Leonov, who in 1965 became the first man to ever walk in space. He was part of the original investigative team, and this is what Leonov claims.
In March, 1968, Gagarin was piloting a MIG-15 aircraft when a larger plane got too close to his as it passed at supersonic speeds, causing a backwash that flipped Gagarin's smaller plane, sending into a fatal spiral. He was only 34 years old.
Gagarin's ashes are buried in the wall of the Kremlin in Moscow's Red Square.