Famously Dead A-Z:

Cause of Death:
View information about Scott Carpenter's death here on famously-dead.com. You can view information about Scott Carpenter's death and other famous deaths. You can view by name or by cause of death. We also have included the most popular famous deaths.
Scott Carpenter's Death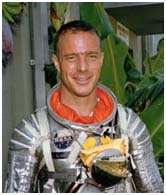 Scott Carpenter
Astronaut
May 1, 1925
October 10, 2013
Stroke
He was one of the original seven astronauts selected for NASA's Mercury program in April 1959 and became the second American to orbit the earth.
Malcolm Scott Carpenter was born in Boulder, Colorado but moved to New York City with his parents when his father was awarded a postdoctoral research position at Columbia University. Scott later returned to Boulder with his mother, who was ill with tuberculosis, and was raised by his maternal grandparents.
After graduating from Boulder High School, he was accepted into the Navy's college training program as an aviation cadet. And shortly before the Korean War, Carpenter was recruited by the Navy's direct procurement program and reported for duty.
After being chosen for the Project Mercury team, Carpenter served as a backup pilot for John Glenn, the first American to orbit the earth.
Carpenter was the second American in orbit assigned to fly into space May 24, 1962.
He had a congratulatory phone call from then President Lyndon Johnson.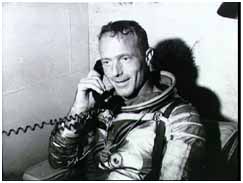 But there were tense moments before that because his nearly five hour flight ended with him landing far off course – 288 miles -and there were fears that he did not survive because contact was lost.
The controversy over that landing created problems for him with his bosses at NASA. Flight director Chris Kraft accused Carpenter of being distracted and behind schedule, as well as making poor decisions and going too low on fuel. Scott never flew another mission in space. He took a leave of absence from the astronaut corps in 1963, spending the latter part of his NASA career developing underwater training to help astronauts with future spacewalks
Though noted for spaceflight he was also involved in ocean research, conquering not only the heights of space but the depths of the ocean.
Scott Carpenter married four times and divorced three of his wives.
He suffered a stroke in 2013 and was in a hospice in Denver where he died October 10, 2013 at the age of 88. He's survived by his wife Patty, four sons, two daughters and granddaughter and five-step grandchildren.
Carpenter was remembered by family and friends at a November 3rd, 2013 funeral and memorial service in Boulder, Colorado.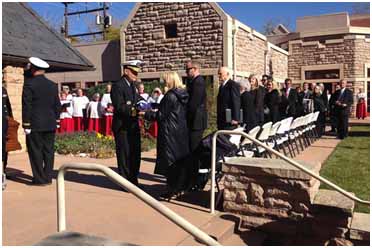 He was eulogized by his fellow astronaut, and former Ohio Senator, John Glenn - who called Carpenter a great friend who is missed.