Famously Dead A-Z:

Cause of Death:
View information about Amelia Earhart's death here on famously-dead.com. You can view information about Amelia Earhart's death and other famous deaths. You can view by name or by cause of death. We also have included the most popular famous deaths.
Amelia Earhart's Death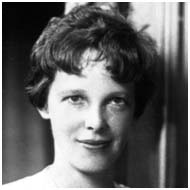 Amelia Earhart
Aviator
July 24, 1897
July 2, 1937
January 5, 1939
Plane crash (suspected)
The life and death of Amelia Earhart:
She was the first great woman of flight. Amelia Earhart was an American aviation pioneer, the first woman to fly across the Atlantic Ocean and the first person to fly over both the Atlantic and Pacific Oceans. She received the U.S. Distinguished Flying Cross for her historic female solo flight across the Atlantic.
But she mysteriously disappeared at age 39 while trying to fly around the globe over the equator in 1937, when her Lockheed Model 10 Electra Earhart disappeared of the Pacific Ocean near Howland Island.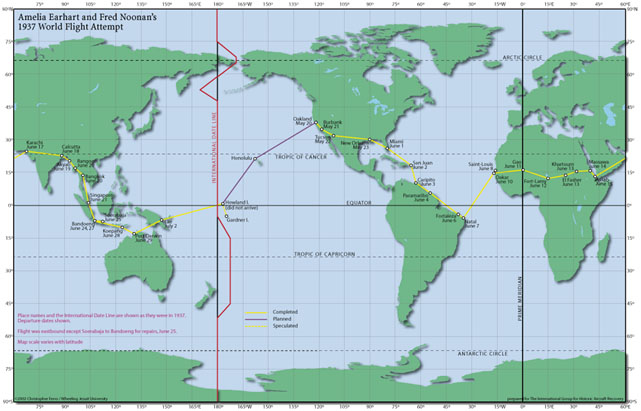 Declared legally dead in 1939, the fascination with her life, career and disappearance continues.
Amelia was born in Atchison, Kansas. Her father Edwin was an alcoholic and her mother saw that she was raised in upper middle class style in the home of her maternal grandfather Alfred Otis. He was a former federal judge, the president of the Atchison Savings Bank and one of the town's leading citizens.
Amelia was adventurous even as a child….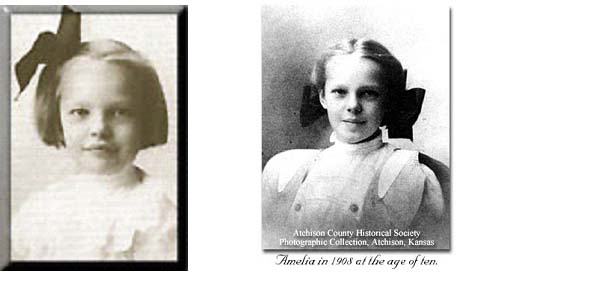 …exploring the neighborhood, spending long hours climbing trees, hunting rats with a rifle and belly slamming with her sled downhill. Some biographers called her a young tomboy.
Amelia prepared to enter Smith College in 1919 but she changed her mind and enrolled at Columbia University, to study medicine but she quit to be with her parents, who'd reunited in California. She caught the bug of flying after taking a plane ride at a Long Beach air show in 1920.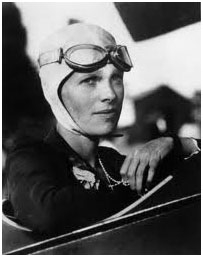 She began taking flying lessons in January 1921 near Long Beach and bought second hand, bright yellow biplane, which she called "The Canary", a few months later. By October 1922, she set a world record for female pilots, taking The Canary to an altitude of 14,000 feet.
After Charles Lindbergh's solo flight across the Atlantic in 1927, Amy Phipps Guest expressed interest in becoming the first woman to fly across the Atlantic, but ditched the idea out of safety concerns and decided to sponsor the effort with another female pilot. And so in April, 1928 Amelia got a phone call asking if she would like to do it.
The project coordinators included a book publisher and publicist named George P. Putnam, who later became her husband. Amelia was teamed with pilot Wilmer Stultz and co-pilot/mechanic Louis Gordon and was really just a passenger because Stultz did all the flying. In fact, she later said she was "just baggage, like a sack of potatoes."
Nevertheless, the crew received a rousing welcome when they landed in Southampton, England. And when they returned to the United States, there was a ticker-tape parade in New York and a White House reception with President Calvin Coolidge. Amelia was fondly nicknamed "Lady Lindy" in a nod to Lindbergh.
Amelia was briefly engaged to Samuel Chapman, a chemical engineer from Boston but their relationship broke off in November, 1928. At the same time, Amelia and Putnam, known as GP, spent a lot of time together and grew intimate. He divorced his wife in 1929, and after six marriage proposals, Amelia finally agreed to become his wife in February, 1931.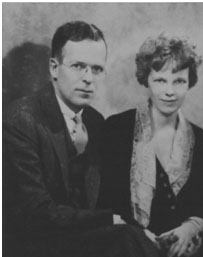 She was before her time when it came to marriage, believing in equal responsibilities for both breadwinners and made a point of keeping her own name instead of being referred to as Mrs. George Putnam. She laughed it off when the New York Times, because of its style rules, called her Mrs. Putnam. And George had to get used to people calling him Mr. Earhart.
In May 1932, Amelia took off on the first Trans-Atlantic solo flight by a woman and succeeded. She was also the first person to fly solo from Honolulu to Oakland, California.
But mystery and tragedy began on July 2, 1937, when Amelia and a copilot named Fred Noonan….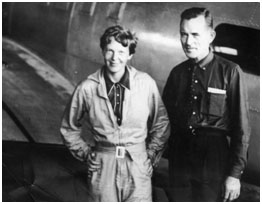 ….vanished during her around the world trip over the Equator.
The trip started ordinarily enough. They departed Miami on June first and made several successful stops in South America, Africa, India and Southeast Asia. With about 22,000 miles of the journey under their belts, Earhart and Noonan prepared for the final, 7000 mile leg over the Pacific.
They took off from Lae, New Guinea on July 2, 1937 in their heavily loaded Lockheed Electra…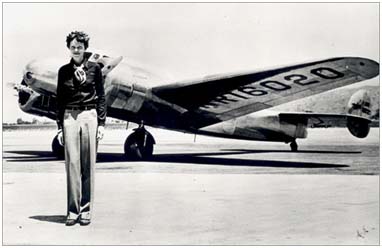 ...bound for the tiny Howland Island, only 6500 feet long and 1600 feet wide. Their last known positioning was about 800 miles into the flight. Then the trouble started. The radio navigation failed. Filmed evidence says an antenna might have been damaged on takeoff. Some later said Amelia might not have fully understood the very new technology being used.
She was able to radio out and couldn't hear return transmission. She warned that her fuel was running low. Scattered clouds near Howland Island were also a problem. After desperately searching for the Island, all contact was lost. Search efforts were launched within an hour of the last transmissions but they were never found and it was concluded that Earhart and Noonan were lost. Many researchers believe her plane ran out of fuel and that Earhart and Noonan ditched at sea.
But not everyone accepts that explanation.
Amelia Earhart was widely known as an international celebrity during her lifetime and is remembered as a feminist icon.
Besides all of her other accomplishments, there's a brand of luggage named after her.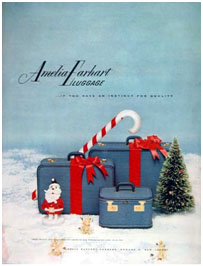 Here's a quick video summary of the life and legend of Amelia Earhart.
In late October 2014, a discovery was made that some felt provided important new information about her disappearance.
Investigators said they matched a chunk of aircraft wreckage found on the island of Nikumaroro in the Pacific, to a repaired panel on the fuselage of her plane.
This photo, taken in Miami just before she embarked on her final trip...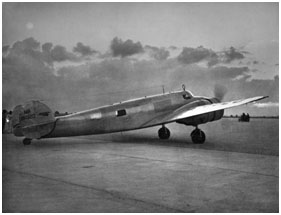 ...shows the shinier metal, window-sized patch on the side of her plane. That's what they claim to have found.
The group says it suggests that Earhart and Noonan landed on the uninhabited island and eventually starved to death. But skeptics remain, with an investigator with another group saying it's absolutely not true.
The piece of debris will receive further attention during another research trip in June, 2015.