Famously Dead A-Z:

Cause of Death:
View information about Tiny Tim's death here on famously-dead.com. You can view information about Tiny Tim's death and other famous deaths. You can view by name or by cause of death. We also have included the most popular famous deaths.
Tiny Tim's Death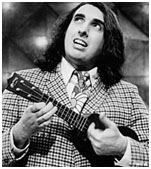 Tiny Tim
Singer
April 12, 1932
November 30, 1996
Heart Attack
The life and death of Tiny Tim:
Here's a guy who became famous because his act was so flat-out weird. Tiny Tim was an American singer and ukulele player and achieved stardom for his rendition of "Tiptoe through the Tulips", sung in a high pitched, fluttering voice.
He was born Herbert Kaury in New York City. His mother was a Polish Jewish woman and his father was a Lebanese Catholic textile worker. Herbert showed musical talent as a boy and said he found his ability to sing in an upper register in 1952, while listening to the radio.
Herbert taught himself to play the ukulele, being a big fan of radio and TV host Arthur Godfrey.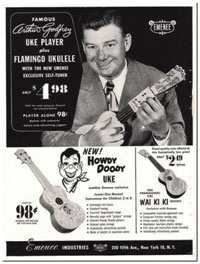 Kaury took his stage name Tiny Tim in 1962 and burst onto the scene with "Tiptoe through the Tulips" on "Rowan and Martin's Laugh In" in 1968.
And in December 1969 he married Victoria Mae Budinger, also known as Miss Vicky, on the "Tonight Show with Johnny Carson", with 40 million guests in the TV audience.

They had a daughter, Victoria Tulip…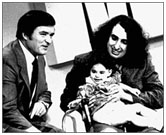 …but mostly lived apart and divorced eight years later.
Tiny Tim married two more times, living separately from those wives too.
His passing was almost as bizarre as his act. In September, 1996 he suffered a heart attack just as he started singing at a ukulele festival in Montague, Massachusetts. Hospitalized for three weeks, upon his release his doctors told him he needed to stop performing.
He ignored them and on November 30th, while performing in Minneapolis, he had a second heart attack on stage while singing his signature song. He left the stage and died a short time later.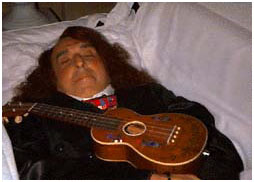 Tiny Tim's buried in a Mausoleum in Lakewood Cemetery in Minneapolis.