Famously Dead A-Z:

Cause of Death:
View information about Stevie Ray Vaughan's death here on famously-dead.com. You can view information about Stevie Ray Vaughan's death and other famous deaths. You can view by name or by cause of death. We also have included the most popular famous deaths.
Stevie Ray Vaughan's Death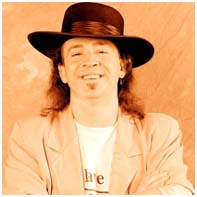 Stevie Ray Vaughan
Music
October 3, 1954
August 27, 1990
Aircraft Accident / Helicopter Crash
The life and death of Stevie Ray Vaughan:
He accomplished a lot in a brief period of time. He's generally remembered as one of the most influential guitarists in the history of blues music, with some comparing him to Jimi Hendrix and Muddy Waters. However, his mainstream career, which also encompassed singing, song-writing and record production, only lasted seven years before he was killed in a helicopter crash.
Stephen Ray Vaughan was born and raised in Dallas and started playing the guitar as a young boy, inspired by his older brother Jimmie, a future band-mate.
Stevie dropped out of high school in 1971 and started playing gigs. He formed his own band, originally called Triple Threat Revue which was renamed Double Trouble. They made a big impression at 1982's Montreaux Jazz Festival and in 1983, released their debut album "Texas Flood."
Stevie had struggles with alcohol and drugs, and it contributed to the breakup of his first marriage to Lenora Darlene Bailey.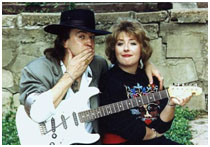 In 1986, he collapsed while on a tour in Europe and checked himself into rehab.
Another successful song, "Tightrope", focused on some of the struggles in his personal life. It was part of his Grammy winning "In Step" album.
After getting clean he headlined shows with the likes of Jeff Beck and Joe Cocker in 1989 and 1990.
On August 27, 1990, Double Trouble performed at Alpine Valley Music Theatre in West Troy, Wisconsin.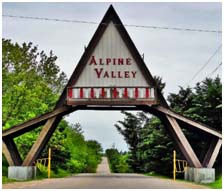 After the gig, on a hazy and foggy night, the band boarded helicopters bound for Chicago. Stevie and three others got on the one that subsequently crashed into a 1000-foot ski slope.

All on board were killed instantly and Stevie Ray was dead at age 35.
It made headlines around the world

A memorial was held at Laurel Land Cemetery in Dallas …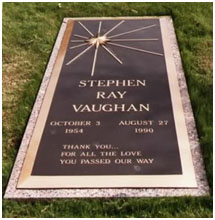 …where SRV was buried next to his father.
"Rolling Stone" ranked him seventh among the "100 Greatest Guitar Players of All Time."