Famously Dead A-Z:

Cause of Death:
View information about Ronnie Van Zant's death here on famously-dead.com. You can view information about Ronnie Van Zant's death and other famous deaths. You can view by name or by cause of death. We also have included the most popular famous deaths.
Ronnie Van Zant's Death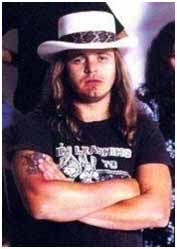 Ronnie Van Zant
Music
January 15, 1948
October 20, 1977
Plane crash
The life and death of Ronnie Van Zant:
As one of the founders of the Southern rock band Lynyrd Skynyrd, he was the lead vocalist and one of the group's main songwriters. But like so many others in music, he died an untimely death in a plane crash.
Born in Jacksonville, Ronald Wayne Van Zandt considered many career paths before turning to music. He thought about being a boxer because of his love of heavyweight champ Muhammed Ali. Professional baseball also came to mind and he remained a lifelong baseball fan, following the New York Yankees and the Chicago White Sox . Ronnie also thought about being a stock-car racer, like another Jacksonville native, Lee Roy Yarborough.
But music was playing in his head. His brothers also went into music, including current Lynyrd Skynyrd lead vocalist Johnny Van Zant, and the founder and vocalist of "38 Special", Donnie Van Zandt.
So in the summer of 1964, with a group of schoolmates and friends, Ronnie started a band: Lynyrd Skyrnyd. The group's name was a mocking tribute to their high school gym teacher Leonard Skinner, who disliked long hair on boys.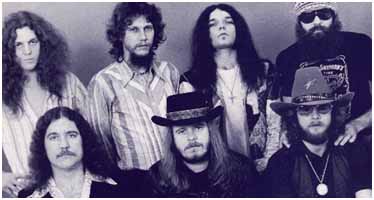 Their popularity grew in 1973 when they released their debut album and they had a string of hit songs like "I Ain't the One", "Tuesday's Gone", "Simple Man" and "Gimme Three Steps." And they had a major hit in this period, "Free Bird".
But Lynyrd Skynyrd's biggest hit single was "Sweet Home Alabama".
Married to Nadine Inscoe in January, 1967 they had a daughter Tammy before they split up in 1969. Ronnie then married Judy Seymour in 1972 and they stayed together until his 1977 death, having a daughter, Melody, in 1976.
Ronnie had some run-ins with the law, especially in 1975, when he was arrested for throwing a table out of a second-story hotel room.
His untimely end came on October 20, 1977, when a Conair CV-300 …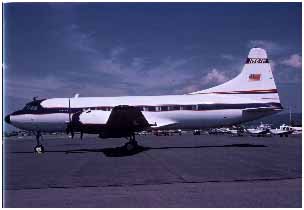 …carrying the band from shows in Greenville, South Carolina to Baton Rouge, Louisiana crashed in Mississippi.
The passengers were told to brace for impact because of problems with one of the plane's engines. Van Zant died in the impact of the crash, when the plane hit a tree.

Other members of his entourage and the flight crew were also killed.
Ronnie Van Zandt was buried in Orange Park, Florida...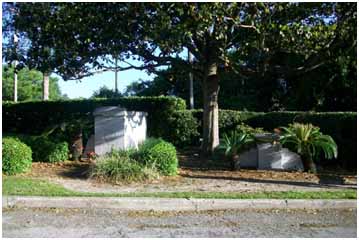 …but was relocated after vandals broke into a bandmate's grave.
He was reburied in Riverside Memorial Park in Jacksonville, near his father and mother.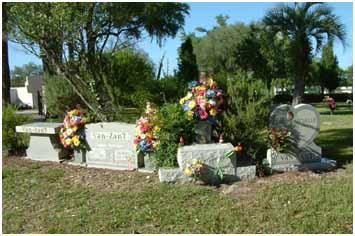 And there's a Ronnie Van Zandt Memorial Park in Lake Asbury, Florida near his hometown of Jacksonville.