Famously Dead A-Z:

Cause of Death:
View information about Rick James's death here on famously-dead.com. You can view information about Rick James's death and other famous deaths. You can view by name or by cause of death. We also have included the most popular famous deaths.
Rick James's Death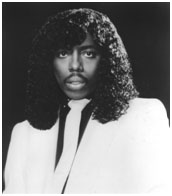 Rick James
Music
February 1, 1948
August 6, 2004
Heart failure
The life and death of Rick James:
He made music, lived fast and hard (some thought recklessly) and died at a relatively young age.
Rick James was born James Ambrose Johnson Junior in Buffalo, New York. One of eight children, his autoworker dad left the family when young James was ten years old. His mother Mabel, a dancer, ran errands for local Mafia-mobsters to put food on the table.
In high school, young James was quite the ladies man, known for several promiscuous affairs with students and teachers alike. He dropped out of school at age 15 to avoid being drafted because of his criminal activities. He joined the navy reserve a year later but deserted and moved to Toronto to pursue his musical career.
He formed the rock-soul fusion band "The Mynah Birds" in Toronto…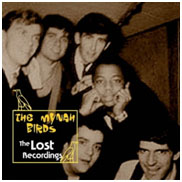 …but when he was caught recording with them in the 1960's, ended up surrendering to military police and served a one year sentence back in Buffalo.
After his prison stint, Rick moved to California and started several bands and in 1977, he signed with the Gordy Records subsidiary of Motown. His first album "Come Get It"…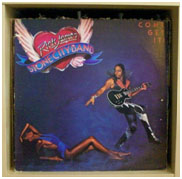 …sold a million copies and he produced some hits for the Temptations and Smokey Robinson.
He also produced recordings for the Mary Jane Girls and Teena Marie.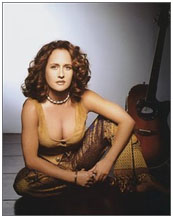 Rick had a big solo hit of his own with "Super Freak".
But he also had legal problems, stemming from his addiction to cocaine. He started using pot as a kid and moved on to coke. He said his cocaine habit cost him, 7-thousand dollars a week, five years running!
Then in 1993, Rick and his future wife Tanya Hijazi…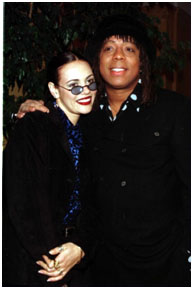 …were accused of holding a 24 year old name Frances Alley against her will, tying her up and forcing her to perform sex acts and burning her with the end of a crack cocaine pipe. He was cleared of a torture charge which could have meant a life prison sentence, but served two years in California's Folsom Prison and lost 2-million dollars in a civil suit.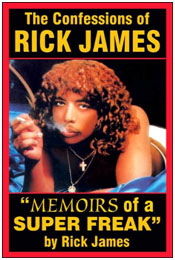 Rick's wild lifestyle caught up with him in the summer of 2004, when he was found dead in his home. Heart failure was blamed, but pulmonary failure, diabetes and after effects of a stroke and heart attack contributed.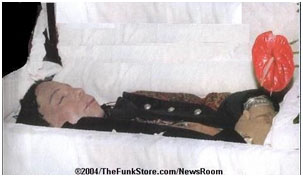 At his autopsy, traces of nine drugs were found in his system, including cocaine.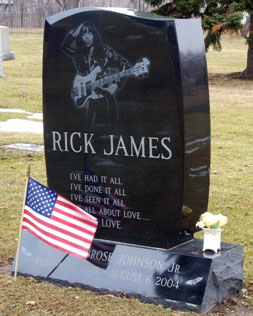 The father of three, Rick's buried in Buffalo's Forest Lawn Cemetery.