Famously Dead A-Z:

Cause of Death:
View information about Pete Seeger's death here on famously-dead.com. You can view information about Pete Seeger's death and other famous deaths. You can view by name or by cause of death. We also have included the most popular famous deaths.
Pete Seeger's Death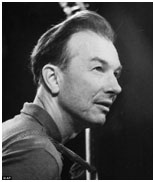 Pete Seeger
Music
May 3, 1919
January 27, 2014
Natural Causes
The life and death of Pete Seeger:
He was the epitome of the American folk singing activist. Well known nationwide as a radio performer in the 1940's, he had a string of hit records in the 1950s as a member of the Weavers. Although the group was blacklisted during the Communist-hunting McCarthy era, in the 1960s he re-emerged as a prominent singer of protest music in support of civil rights, international disarmament and environmental causes.
Peter Seeger started life in The French Hospital in New York City. He described his Protestant family as Yankee all the way, very Christian in the Puritan tradition. One of his ancestors, Karl Seeger, came to America during the American Revolution. Pete's mother Constance de Clyver was a concert violinist and teacher at the Julliard School. His father Charles was a Harvard-trained composer and musicologist.
Laying the foundation for Pete's path in life, Charles was hired to establish the music department of University of California Berkeley in 1912. However, he was forced to resign six years later because of his outspoken pacifism during World War I. Charles and his wife travelled back east, settling at his parent's estate in Patterson, New York.
However, when their son Pete was only 18 months old they took him and his two older brothers in a homemade trailer going south, to uplift working people of the American South with their music.
Charles and Constance divorced when Pete was only seven and Charles married his assistant, who became known as Ruth Crawford Seeger, now considered by some to be one of the most important modernist composers in the 20th century. Obviously, Pete grew up with strong musical influences.
Despite being classical musicians, Pete's parents didn't pressure him to play an instrument, but he gravitated toward the ukulele and he entertained his classmates with it. When Pete was 17, he joined the Young Communist League, then at the height of its popularity he became a member of the Communist Party USA, but left it in 1949.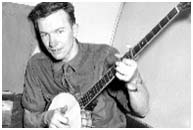 In 1943, Seeger married Toshi-Aline Ota and he credited her with being the support that helped make the rest of his life possible.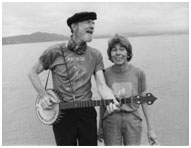 Their first child, Peter, died at six months and Pete never saw him because he was deployed overseas. They had three other children: Daniel, Mika, and Tinya and several grandchildren. Pete and Toshi….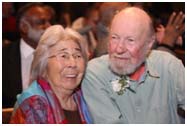 …remained married for seventy years, until she died in July, 2013.
More than just a singer, Pete also wrote several very well-known songs, including "Where Have All the Flowers Gone", "If I Had a Hammer" and "Turn Turn Turn", which was adapted from the Biblical Book of Ecclesiastes. Seeger also helped to popularize "We Shall Overcome", which became the anthem of the 1960's American civil rights movement.
Pete was a big backer of another legendary folk artist, Bob Dylan, and was responsible for helping Dylan in his career, inviting him to perform at the Newport Folk Festival, of which Seeger was a board member. However, he was also one of the main opponents to Dylan's going electric on the guitar.
Pete Seeger's activist nature meant he was a fierce opponent of the Vietnam War and he recorded a wartime song satirizing then-President Lyndon Johnson.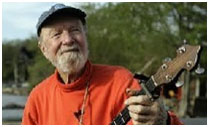 Seeger performed for the final time of September 21, 2013 at the Farm Aid Concert at the Saratoga Performing Arts Center in Saratoga Springs, New York. He was introduced by John Mellancamp.
He died a few months later in January 2014 at the age of 94, peacefully in his sleep, during what had been a six day stay at New York's Presbyterian Hospital. His grandson Kitama Cahill-Jackson says Pete was active as ever to the end, chopping wood 10 days prior to his death.
Pete Seeger was cremated with his ashes given to his family.