Famously Dead A-Z:

Cause of Death:
View information about Natalie Cole's death here on famously-dead.com. You can view information about Natalie Cole's death and other famous deaths. You can view by name or by cause of death. We also have included the most popular famous deaths.
Natalie Cole's Death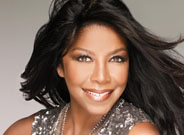 Natalie Cole
Music
February 6, 1950
December 31, 2015
Heart Failure
The life and death of Natalie Cole:
To paraphrase a song that made their family famous, her father was unforgettable. Together, they were unforgettable. And on her own, this singer-songwriter was unforgettable too.
Natalie Maria Cole was born in Los Angeles the daughter of an already legendary singer, Nat King Cole.
Her mother was a singer with the Duke Ellington orchestra, Maria Hawkins Ellington.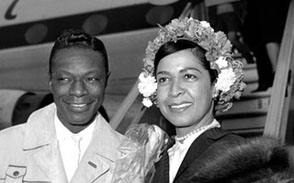 Natalie was raised in the wealthy Hancock Park section of Los Angeles and she often referred to her childhood family as being the "Black Kennedy's", because they met so many of the greats of jazz, soul the blues and entertainment in general, everyone from Peggy Lee to Louis Armstrong to Lena Horne and Danny Thomas.
The family also included an older adopted sister named Carol, an adopted brother Nat and younger twin sisters Timolin and Casey. Her dad's Brother Freddy was a singer and pianist with numerous albums and awards and his own.
Natalie made her first recording at the age of six, singing on Christmas album her father put together …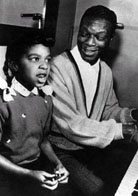 …and began performing at the age of 11.
But her father died young of lung cancer in February 1965 and later Natalie began having a difficult relationship with her mother. Natalie attended the University of Massachusetts in Amherst, then transferred briefly to the University of Southern California, then headed back to Massachusetts where she majored in child psychology with a minor in German.
She then started her music career singing in small clubs with the band called Black Magic. Clubs liked the idea of having Nat King Cole's daughter performing at first, but then we're disappointed when all she did was cover R&B and rock tunes. She also struck out with several record labels although her father's label, Capitol records, heard her music and agreed to sign her.
Her first really big hit was "This Will Be" in 1975, for which she won a Grammy award.
A second single from that album called "You" will also was a hit called "Inseparable". She also won Best New Artist at the Grammy awards, and was called the new Aretha Franklin by the media, which sparked a rivalry between the two singers.
Natalie had a Platinum record with her third release "Unpredictable", helped by a number one R&B hit "I've Got Love on my Mind" up and by 1979 she was awarded a star on the Hollywood Walk of Fame.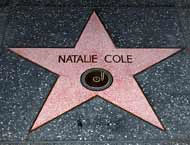 In 1991 she did a virtual mix with her late father's recording of "Unforgettable" and it turned out to be a smash hit. Natalie produced the vocal arrangements for the song and eventually rose to number 14 on the billboard hot 100.
That song was part of an album that won a Grammy for "Album of the Year", "Record of the Year" and "Best Traditional Pop Vocal Performance" for top song.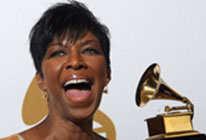 She also had other virtual duets with her father, including a seasonal hit that'll always be associated with her Dad.
Natalie also have a secondary career in acting and had guest appearances on TV series including "Touched by an Angel" and "Law and Order". She also appeared in live concerts, including the 1988 Nelson Mandela 70th birthday tribute and a performance with Andrea Bocelli in a September 2010 concert at L.A.'s Kodak Theatre.
But Natalie also had personal problems including battles with drug addiction and her career suffered. She released autobiography in 2000 called "Angel On My Shoulder" describing her battle with drugs, including heroin and crack cocaine. She said she started recreational drug use well at the University of Massachusetts, in Amherst. While she was on a drug binge her young son nearly drowned in the family swimming pool and that's when she entered a rehab facility in Connecticut in 1983 and reportedly stayed there for half a year.
She also had stormy personal relationships, married three times. Her first husband was Marvin Yancey. They married in July 1976 but were divorced in 1980, several years before he died of a heart attack in 1985. They had a son, Robert Yancy.
In 1989 Natalie married record producer Andre Fisher but they divorced in 1995 and in 2001 she married bishop Kenneth DuPree but they split up in 2004.
By 2008 she said she'd been diagnosed with hepatitis C, a liver disease and she attributed that to her intravenous drug use earlier in her life. She also suffered from kidney failure, requiring dialysis and eventually a kidney transplant.
By December 2015 she had to cancel several performances because of illness and on New Year's Day 2016 it was reported that she died December 31, 2015 at Cedars Sinai Medical center. Her family said she had ongoing health issues at the time for death and a publicist said her death was the result of congestive heart failure.
Her death was mourned by fellow performers and political figures alike.