Famously Dead A-Z:

Cause of Death:
View information about Jerry Garcia's death here on famously-dead.com. You can view information about Jerry Garcia's death and other famous deaths. You can view by name or by cause of death. We also have included the most popular famous deaths.
Jerry Garcia's Death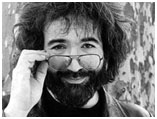 Jerry Garcia
Music
August 1, 1942
August 9, 1995
Heart Attack
The life and death of Jerry Garcia:
He was a counterculture musician best known for his guitar playing, singing and song writing with the Grateful Dead.
Jerome John Garcia was born in San Francisco, named after the composer Jerome Kern. His father José was of Spanish ancestry and his mother Ruth was Irish-Swedish. His father was a retired professional musician and his mother enjoyed playing the piano. Jerry was influenced by music at a young age, taking piano lessons for much of his childhood.
He had several unusual childhood experiences, including having two thirds of his right middle finger cut off at age four in a wood shopping accident. His father died about a year after that while on vacation. He was fly-fishing and slipped on a rock, plunging into the deep rapids of the river.
After his dad died, Garcia's mother took over husband's bar and began working full-time. And for the next five years Jerry went to live with his maternal grandparents in their nearby home.
Fast forward to 1957, and Jerry was now smoking cigarettes and was introduced to marijuana. 1958 saw him getting into trouble while a 10th-grader at Balboa High School for cutting classes and fighting.
Jerry stole his mother's car in 1960 and was subsequently forced to join the Army. He served near his home at the Presidio in San Francisco, spending most of his time at leisure - missing roll call and toting up a lot of AWOLs.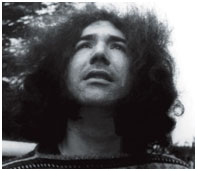 By 1962 Jerry met Phil Lesh, who was the eventual bass guitarist of the Grateful Dead, at a party in Menlo Park, forming the foundation of the Grateful Dead, with bandmate Bob Weir joining later.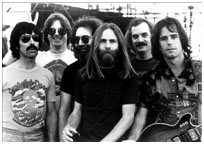 A legion of fans called "Deadheads" followed them and they had several hits, most notably "Casey Jones", "Touch of Grey" and "Truckin'"
Although he said he wasn't the spokesman for the group, Jerry Garcia was one of the founders of The Dead and performed with them for their nearly 30 year career.
He also worked on various side projects including the Saunders- Garcia bad, the Jerry Garcia band, "Old and in the Way", along with other acts. "Rolling Stone" ranked him 13th of the 100 greatest guitarist of all time
Jerry married Sarah Ruppenthal in 1963 while she was working at a coffeehouse.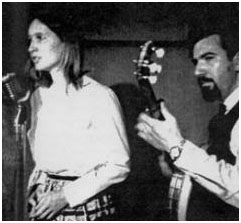 They had a daughter named Heather and divorced in 1967.
Carolyn Adams moved in with Jerry…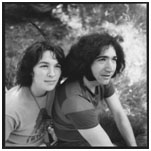 …giving birth to Garcia's second and third daughters, Anabelle Walker and Teresa Adams Garcia. They married in 1981.
Jerry and his bandmates were involved in some drug busts and his heroin addiction led to an ultimatum to quit the drugs or the band. Jerry checked into rehab and was clean by 1986. But his overall health suffered because of his heroin and cocaine addictions.
And in his later years Garcia was often ill because of diabetes and he went into a diabetic coma in 1986 that nearly killed him. His health was also challenged by bad eating habits, leading to weight problems.
Roughly one week after his 53rd birthday, Jerry suffered a fatal heart attack on August 9, 1995 after struggling with drug addiction and problems like sleep apnea, heavy smoking, and diabetes.
His funeral was held at St. Stephen's Episcopal Church in Belvedere, attended by family, remaining members of the Grateful Dead and their friends.
Cremated, half of Jerry Garcia's ashes were spread over the Ganges River in India. The other half of his remains were poured into San Francisco Bay.