Famously Dead A-Z:

Cause of Death:
View information about Jeff Buckley's death here on famously-dead.com. You can view information about Jeff Buckley's death and other famous deaths. You can view by name or by cause of death. We also have included the most popular famous deaths.
Jeff Buckley's Death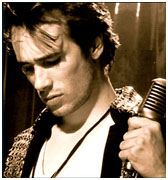 Jeff Buckley
Music
November 17, 1966
May 29, 1997
Drowning
The life and death of Jeff Buckley:
It was just starting to come together for him when he went for a swim and never came back alive.
Jeffrey Scott Buckley was born in Anaheim, California - the only son of Mary Guibert and Tim Buckley. His biological father was a singer-songwriter and released a series of folk and jazz albums in the late 60's and '70's. Jeff said he met Tim only once when he was eight years old and his biological father died of a drug overdose in 1975.
He was raised as Scottie Morehead…

…by his mom and step-father, Ron Moorhead. The family, including a half-brother Corey Moorhood, moved several times in communities in Southern California. Buckley called his upbringing "rootless trailer trash."
He was brought up in a musical environment. His mom was a classically trained cellist and pianist. His step-father introduced him to classic rock acts, including Led Zeppelin, Queen and Jimi Hendrix. He started playing guitar by age five and by the time he was 12 decided he wanted to be a musician.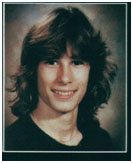 He spent a half dozen years working gigs in hotels in various musical genres. In February, 1990 he moved to New York City and he started playing cover songs at venues in the East Village in Manhattan. He signed with Columbia Records, put together a band and recorded what would be his only studio album, "Grace", in 1994.
In March 2008, that song went to Number One on the I-tunes chart, selling 178-thousand downloads in a week.
In May, 1997, Buckley's band flew to Memphis Tennessee to work on his second album. On the evening of May 29, 1997 Buckley went swimming in Wolf River Harbor.

He was wearing boots all of his clothing and singing the chorus of "Whole Lotta love". Jeff had gone swimming there before, but this time he went under and vanished. An autopsy showed no sign of drugs or alcohol in his system and Jeff's death was ruled an accidental drowning.
He's buried at the Memphis Zoo…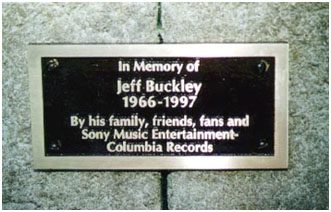 …is memorial marker overlooks the Sumatran tigers.