Famously Dead A-Z:

Cause of Death:
View information about James Brown's death here on famously-dead.com. You can view information about James Brown's death and other famous deaths. You can view by name or by cause of death. We also have included the most popular famous deaths.
James Brown's Death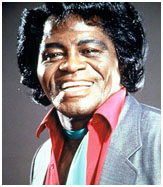 James Brown
Music
May 3, 1933
December 25, 2006
Heart Failure
The life and death of James Brown:
The "Godfather of Soul", he was also known as "the hardest working man in show business." One of the founding fathers of funk music and a major figure in 20th-century popular music and dance, his career lasted six decades.
James Joseph Brown was born in poverty in Barnwell, South Carolina and moved to Augusta, Georgia to live with relatives when he was five years old. Raised by these relatives and friends, young James spent a lot of time out on the streets and was accused of various crimes. He did some time in prison for robbery.
However, he also was a gospel singer and while in reform school met Bobby Byrd, whose family took him in. He then joined Byrd's musical group, the Avons, which morphed into "The Famous Flames." James was their lead singer and he burst onto the public scene with "Please, Please, Please" in the late 1950's.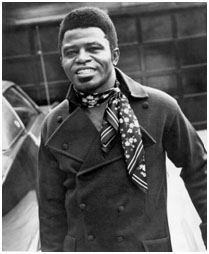 Another early hit was "Try Me."
A 1966 guest shot on CBS-TV's "Ed Sullivan Show" gave James a chance to showcase his distinctive musical and performing styles.
Other 1960s included "It's a Man's Man's Man's World".
By the early 70s he had hits with "Get Up", "Sex Machine" "The Payback" and social commentary like "Say It Loud I'm Black and I'm Proud."
Not to be confused with his contemporary football/star actor Jim Brown, James Brown recorded 17 number one singles on Billboard's R&B charts.
He married several times; the first marriage to Velma Warren began in 1953 ended in divorce in 1969. He married his second wife, Deirdre Jenkin, in 1970. They separated and divorced in 1981. James then married Adrienne Lois Rodriguez in 1984.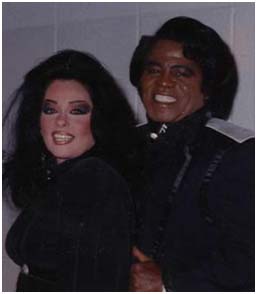 He was accused of abusing her and she died in January, 1986.
He later married Tomi Rae Hynie in 2002…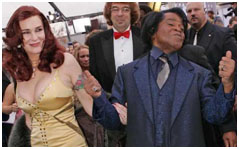 ……although the marriage led to controvsy following James' death, who another man claimed was married to him.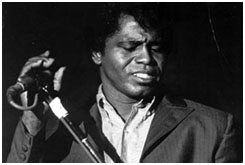 James had strict rules against using drugs and alcohol for members of his entourage, including the band members. However, by the mid-1980s he was accused of using drugs himself. One accusation said he would smoke PCP, also known as angel dust. He was also accused of using cocaine mixed with tobacco in Kool cigarettes and was also arrested for the unlawful use of a handgun and possession of marijuana.
James had diabetes which went undiagnosed for years and in 2004 was successfully treated for prostate cancer.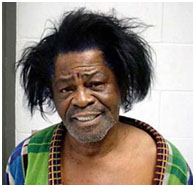 On December 23, 2006 James became very ill and went to a dentist's office for some implant work. The dentist said he looked very bad – weak and dazed - and instead of doing the dental work, advised James to see a doctor immediately. James checked into an Atlanta hospital and was admitted for observation and treatment.
On Christmas morning, the Godfather of Soul died was congestive heart failure, resulting from complications of pneumonia. His final words were "I'm going away tonight." James took three long breaths and fell asleep before dying.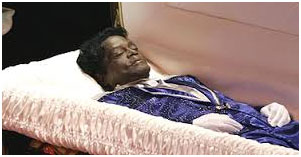 There was a public memorial service at New York's Apollo Theatre and a few days later at the James Brown Arena in Augusta.
Controversy followed when it was revealed that his six adult children were named in his will, while Tomi Hynie and son James II were not. Lawsuits were traded back and forth and his temporary burial site is in the Thomas Familty Home Crypt in Beech Island, South Carolina.
We'll end his story with a chance for you to hear James Brown singing his signature song.