Famously Dead A-Z:

Cause of Death:
View information about Ike Turner's death here on famously-dead.com. You can view information about Ike Turner's death and other famous deaths. You can view by name or by cause of death. We also have included the most popular famous deaths.
Ike Turner's Death

Ike Turner
Music
November 5, 1931
December 12, 2007
Cocaine overdose, Emphysema
The life and death of Ike Turner:
He was a musical pioneer whose accomplishments were overshadowed in many ways by charges of drug abuse and wife beating.
He was born Izear Luster Turner in Clarksdale, Mississippi to his seamstress mother Beatrice and his Baptist Minister father Izear, or Isaiah. He taught himself to play guitar while listening to blues recordings and joined a rhythm band while in high school.
His career really took off when he and Annie Mae Bullock teamed up. She's better known today as Tina Turner. They were married and had several hit records together, including "Proud Mary", their biggest hit. But they had other popular songs, like "Shake Your Tail Feather".
But she accused him of spousal abuse and the marriage ended.
And Ike pulled a four-year prison stretch in California for cocaine possession. He was paroled after a year and a half.
When Ike died, the San Diego coroner's office said it was a cocaine overdose even though his daughter Mia said he died of the effects of emphysema.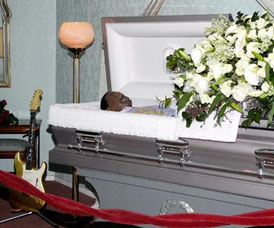 Ike Turner was cremated after a funeral service attended by musical giants including Little Richard and Phil Spector.
For more information, and the chance to hear "Proud Mary", view Ike Turner's scandals.