Famously Dead A-Z:

Cause of Death:
View information about Heavy D's death here on famously-dead.com. You can view information about Heavy D's death and other famous deaths. You can view by name or by cause of death. We also have included the most popular famous deaths.
Heavy D's Death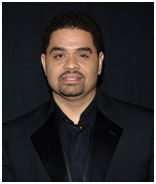 Heavy D
Music
May 24 1967
November 8, 2011
Pulmonary Embolism
The life and death of Heavy D:
He was a Jamaican born rapper and leader of the group Heavy D & the Boyz, a hip-hop group that had a big following in the 1990's. After a fifteen year absence on television, he made a comeback live appearance in the fall of 2011, only to die ten days later.
Dwight Errington Myers was born in Mandeville, Jamaica the son of a nurse named Eulahlee Lee and Clifford Vincent Myers, a machine technician. In the early 70s, the family moved to Mount Vernon, New York, where Dwight was raised.
His on stage persona developed into Heavy D and he and his band released their debut album "Living Large" in 1989 and it was a success. They followed up with "Big Tyme", and indeed the album's title described their destination, because it included four hit songs.
Heavy D gained even more popularity by singing the theme song for the television program "In Living Color"
He also recorded the theme song for the MADtv show and performed a rap on Michael Jackson's hit single "Jam", as well as Janet Jackson's hit single "Alright."
Heavy D also had an acting career, appearing in several TV shows, with recurring roles in "Roc" and "Living Single".
He and his girlfriend, Antonia Lofaso, a contestant on "Top Chef", had a daughter in 2000.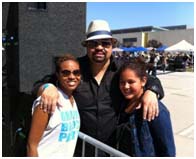 Heavy D appeared on the 2011 BET Hip-Hop Awards on October 29th, his first live TV performance in fifteen years.
It was also his last public appearance.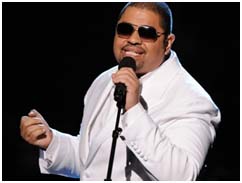 Heavy D died just 10 days later, collapsing outside of his Beverly Hills home. It was originally thought to be connected to pneumonia but an autopsy revealed that the cause of death was a pulmonary embolism.
A blood clot had broken off from a deep vein thrombosis in his leg, which the Los Angeles coroner's office concluded most likely formed during a long airplane ride. The rapper had recently returned from Wales, where he performed in a Michael Jackson tribute. Heavy D also suffered from heart disease.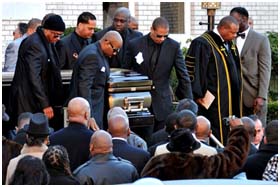 Other artists paid tribute to him after his death. MC Hammer tweeted that they had: "a lot of great times touring together. He had a heart of gold and was a part of what's good about the world".
Heavy D is interred at Ferncliff Cemetery and Mausoleum in Hartsdale, New York.