Famously Dead A-Z:

Cause of Death:
View information about Harry Chapin's death here on famously-dead.com. You can view information about Harry Chapin's death and other famous deaths. You can view by name or by cause of death. We also have included the most popular famous deaths.
Harry Chapin's Death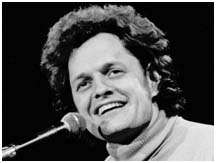 Harry Chapin
Music
December 7, 1942
July 16, 1981
Heart attack
He was famous for his folk rock songs and his humanitarian causes, like fighting world hunger. But Harry Chapin's life was cut tragically short while he was traveling to a concert. It's not known whether he suffered his fatal heart attack before or after the fiery crash from which he was rescued.
Harry was born in New York City one year after the bombing of Pearl Harbor. His parents divorced when he was just eight years old and he lived with his mother while his father, Jim, went on the road as a drummer for Woody Herman and other big bands.
Harry's first formal introduction to music was while singing in the Brooklyn Boys Choir. In 1960 he graduated from one of the city's leading high schools, Brooklyn Tech. He then attended the U.S. Air force academy a brief time and was a student at Cornell University but didn't get a degree.
Harry worked with his brothers, Tom and Steve Chapin, but the act didn't go far. But he enjoyed great success on his own in 1972 because of the single "Taxi."
His next really big hit was based on a poem written by his wife Sandra….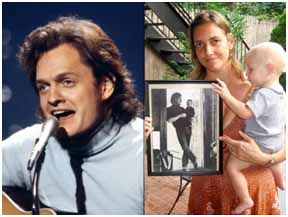 …after their son Josh was born.
Harry put the idea to music, and recorded this number one hit:
Chapin's other hits included "W-O-L-D" and "Flowers Are Red".
Living on Long Island, Harry served on the boards of various cultural arts groups and by the mid-1970's, became a social activist, raising money to combat hunger.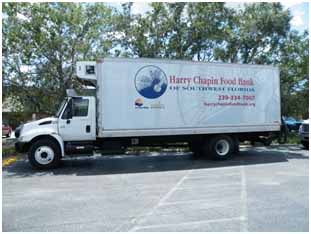 On July 16, 1981 Chapin was driving on the always busy Long Island Expressway, to appear at a free concert in a Nassau County park.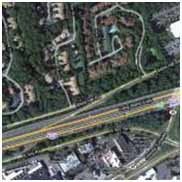 Traveling in the far left lane, he tried to change lanes, perhaps because of a medical problem. With his emergency flashers on, he slowed dramatically and almost crashed with another car. He swerved and ended up in the path of a tractor trailer truck.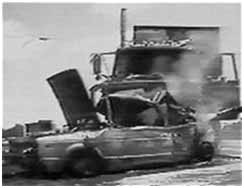 The truck hit the back of Chapin's car, rupturing the fuel tank and it burst into flames.
The truck driver and a passenger were able to get Chapin out before his car burst into flames. Chapin, rushed by police helicopter to a nearby hospital, was beyond help. He suffered cardiac arrest and died of a heart attack. Doctors couldn't say if the damage was done before or after the crash.
Even though Chapin's license was suspended and he was driving without a license, his widow Sandy won a twelve million dollar negligence lawsuit against the owners of the truck. Harry, who lent his support to 14 associations, seven foundations and 82 charities, had left little money.
Chapin's buried at Huntington Grove Cemetery…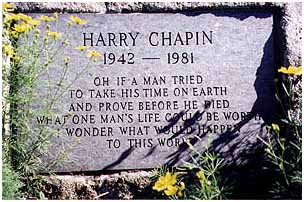 …in Huntington, New York.
He was awarded the Congressional Gold Medal for his humanitarian work on his 45th birthday in 1987, more than six years after he died.