Famously Dead A-Z:

Cause of Death:
View information about Hank Williams's death here on famously-dead.com. You can view information about Hank Williams's death and other famous deaths. You can view by name or by cause of death. We also have included the most popular famous deaths.
Hank Williams's Death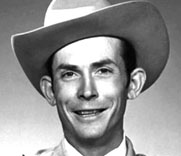 Hank Williams
Music
September 17, 1923
January 1, 1953
Heart Failure (Pill and Alcohol Abuse)
The life and death of Hank Williams:
The "Hillbilly Shakespeare" only lived to the age of 29 but he had an enormous influence on popular music in the 20th Century, especially country music.
His real name was Hiram King Williams and he was born in Mount Olive, Alabama, to lumber company railroad engineer Elonzo Williams and his wife Jessie "Lillie" Skipper Williams. Williams was born with spina bifida, a spinal column disorder which led to a lot of physical pain and set up his later abuse of drugs and alcohol.
The family moved to several south Alabama towns, following Elonzo's work assignments. His mother opened boarding houses in towns named Greenville and Garland and they managed to stay above water during the bleak years of the Depression.
When they moved to Georgianna, Hiram he met Rufus Payne, a black street performer who taught him how to play guitar.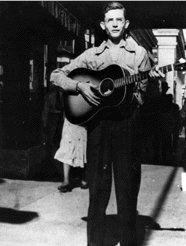 In July, 1937 Williams started calling himself Hank, thinking that Hank sounded better than Hiram when he came to country music. He got his start singing on the radio in Montgomery beginning his music career in 1937 on radio station WSFA, where producers hired him to host his own 15 minute program twice a week for $15. (That's about $246 a week by today's standards.)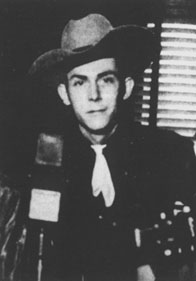 When several members of his band, the "Drifting Cowboys" were drafted into the military for World War II, Hank had trouble with their replacements. Hank had a 4-F deferment because of injuries he suffered in a Texas rodeo accident. He fell from a bull.
This is also when his drinking became a problem and WSFA dismissed him because of his alcoholism.
He failed in a 1946 audition for Nashville's "Grand Ole Opry", but signed a deal with Sterling Records that year, moving on to MGM Records in 1947. That's when his string of hits started.
He recorded many of his own songs - 35 of them became Top Ten Hits, including eleven Number Ones.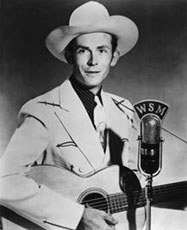 Some of his major hits included "Hey Good-Looking"
Other memorable songs were "Take These Chains from My Heart", "I'm So Lonesome I Could Cry" and "Jambalaya (on the Bayou)".
"Your Cheatin' Heart" was written and recorded in 1952, but released after his 1953 death.
Hank's songs were also recorded and covered by numerous artists, and have been hits in various genres. Tony Bennett had a number one seller with "Cold, Cold Heart".
Hank married Audrey Shepherd in December, 1944 and she managed his career for nearly a decade.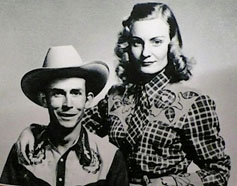 They had a son Randall, famously known as Hank Williams Jr, a star in his own right.

But the marriage deteriorated because of Hank's drug and alcohol abuse problems and they divorced in May, 1952. In October that same year, Hank married Billie Jean Jones Eshilmar.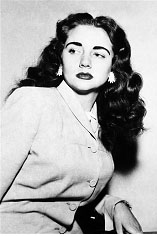 She was also married to country singer Johnny Horton and was known professionally as Billie Jean Norton.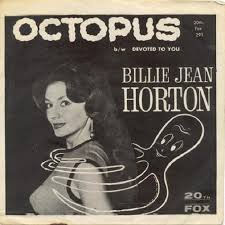 Hank's career suffered because of alcoholism and prescription drug abuse, caused in part by several years of back pain.
On New Year's Eve, 1952 Hank had to cancel a Nashville concert because of weather related travel problems and went on to Canton, Ohio, where a New Year's Day concert was set.
While the year 1953 was only a few hours old, Hank Williams was found dead in a parked car. His driver had stopped at an all-night restaurant in Bristol, Virginia but Hank wasn't hungry and waited in the car. Police found some empty beer cans and unfinished lyrics with his lifeless body.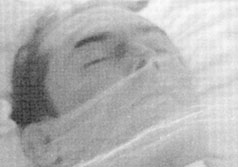 And autopsy showed he died from heart failure, made worse by his abuse of pills and alcohol.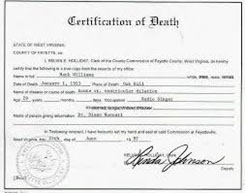 A funeral was held in Montgomery and his coffin was placed on a flower covered staged. An estimated crowd of as many as 25,000 people paid their respects, the largest event the town had ever seen.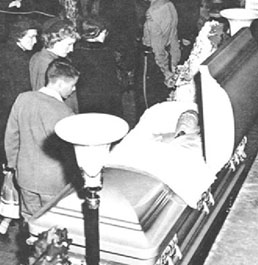 Hank's buried in Montgomery.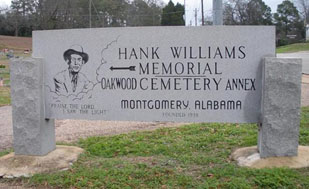 He's in the Country Music Hall of Fame, the Songwriter's Hall of Fame and the Rock and Roll Hall of Fame and has a star on Hollywood Boulevard.