Famously Dead A-Z:

Cause of Death:
View information about Fats Domino's death here on famously-dead.com. You can view information about Fats Domino's death and other famous deaths. You can view by name or by cause of death. We also have included the most popular famous deaths.
Fats Domino's Death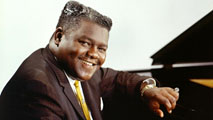 Fats Domino
Music
February 26, 1928
October 24, 2017
Natural Causes
The life and death of Fats Domino:
He was one of the true pioneers of rock and roll. As much as the guitar playing and singing by Chuck Berry, the writing and singing of Buddy Holly and the sex appeal that Elvis Presley brought to the stage, the "Fat Man" at the piano from New Orleans cast his mark on America as a true music legend.
He was born Antoine Domino in New Orleans to a French Creole couple: Antoine Caliste Domino and Marie-Donatille Gros. Antoine was the last of the couple's eight children and his Dad was a popular violinist.
Here's Antoine at age 12: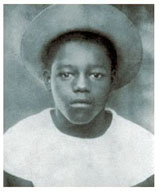 His brother-in-law, jazz guitarist Harrison Verrett, taught Antoine to play the piano. Antoine got the nickname "Fats" from a New Orleans bandleader in the 1940's, because he reminded him of Fats Waller.
Fats was playing piano at night while working at a mattress factory during the day. He signed a recording deal with Imperial Records and Fats was on his way.

He had five certified gold records before 1955 and between 1950 and 1963, Fats had music on the Pop charts 63 times…and on the separate R&B charts 59 times.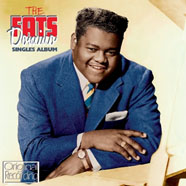 Some of Fats memorable recordings included his first big pop hit, 1955's: "Ain't That a Shame".
His 1956 version of the 1940's tune "Blueberry Hill" was another monster hit.
And "I'm Walkin'" rose to number 4 on the late '50's pop charts
He was inducted in the Rock and Rock Hall of Fame and won a Life Time Grammy Achievement Award in 1987.
Fats was rumored dead when Hurricane Katrina battered his hometown in August 2005, where he chose to remain with his family. The storm destroyed his possessions but he lived out the post-Katrina years in a local suburb.
Still in the public eye at age 86, he was the Grand Marshal of the Mardi Gras Parade in 2014.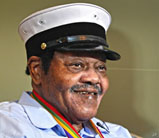 For a man of his considerable girth, Fats lived to the ripe old age of 89 at his daughter's home in suburban New Orleans. He had a net worth estimated in the range of eight million dollars when he died of natural causes.